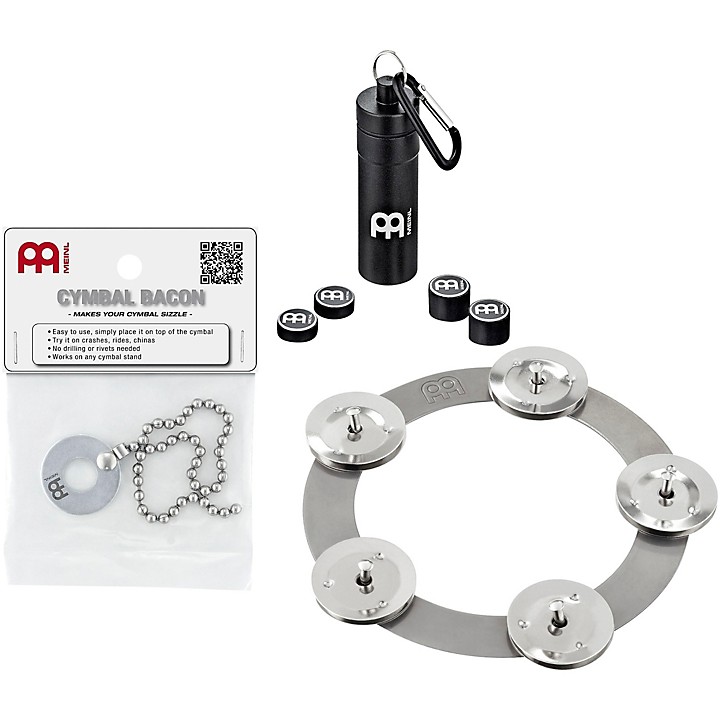 The perfect percussion pack to add new sounds and flavors to your setup.
A great addition to any drummer's cymbal setup, the MEINL CP2 Cymbal Accessory Pack provides players with new voices to add their own flavor around the kit. Included as added value is the free Bacon cymbal sizzler.

Incorporate a ching into your backbeats by placing the MEINL Ching Ring directly on your cymbals. Ideal for hi-hats, these steel jingles will add a different touch to your playing by delivering a shimmering sound that will blend perfectly with your beats. Place the Ching Ring on crashes and rides as well for some truly innovative sounds.

MEINL's Cymbal Tuners offer an easy way to tweak the sound of your cymbals. Simply place the magnets on the cymbal (top and bottom sides) to dial in the amount of dampening you desire. By positioning the cymbal tuners in different spots on the surface, you can control the sustain, dampen the tone, adjust the volume and optimize the sound of your cymbal to just the way you like it.

This MEINL Cymbal Bacon is a simple, economical way to add classic sizzle sound to your ride or crash without the need of placing rivets on a cymbal.

Features
Ching Ring delivers a shimmering sound
Cymbal Tuners let you control the sustain, dampen the tone, adjust the volume and optimize the sound of your cymbals
Cymbal Bacon adds classic sizzle sound to your cymbals without rivets