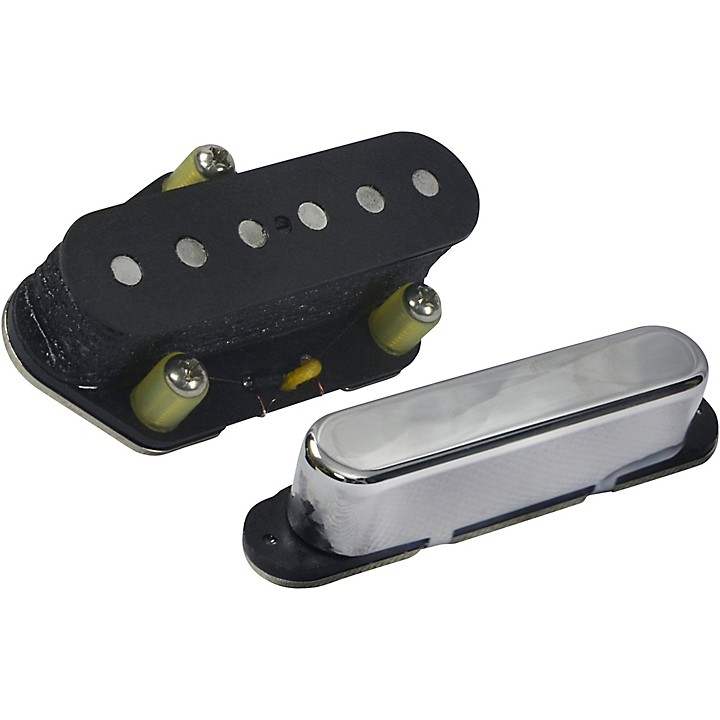 It's all about the tone.
Mojotone "Quiet Coil" Tele pickups are some of the finest hum-cancelling pickups ever made, giving you all of the response and dynamics of a true single coil without the hum. You never have to compensate your tone for hum-cancelling pickups again.

The all new patent applied for Mojotone Broadcaster "Quiet Coil" Tele pickups are designed to sound like vintage 1950-51 Broadcaster Tele pickups without the 60 cycle hum. They beautifully capture the big warmth and clarity of a Broadcaster Tele pickup with that higher output lap steel tone in the bridge position like many of the best sounding Broadcaster Tele pickups. Carefully balanced in output from the neck to bridge positions, and completely hum-canceling in ALL positions.

Product details
(Set of 2) Broadcaster Tele Quiet Coil neck and bridge pickups.
Chrome neck cover
Handmade in the USA

Neck: 6.8k
Bridge: 9.8k

Features
Consistent scatterwound coils for that handwound tone, sensitivity, and clarity
Vintage formulated Alnico magnet cores with lower Gauss levels like an aged vintage tele pickup
Vintage cloth covered leads for easy push-back soldering
Matched resonant peak frequency, inductance, and resistance of a vintage single coil
No routing modifications are required to fit shallow vintage routs like the taller stacked hum-cancelling designs
No PC boards, batteries, or stacked coils are used like other hum-cancelling designs
Less than 10 parts are used to build the Quiet Coils. Like a vintage Tele pickup, they are SIMPLE!