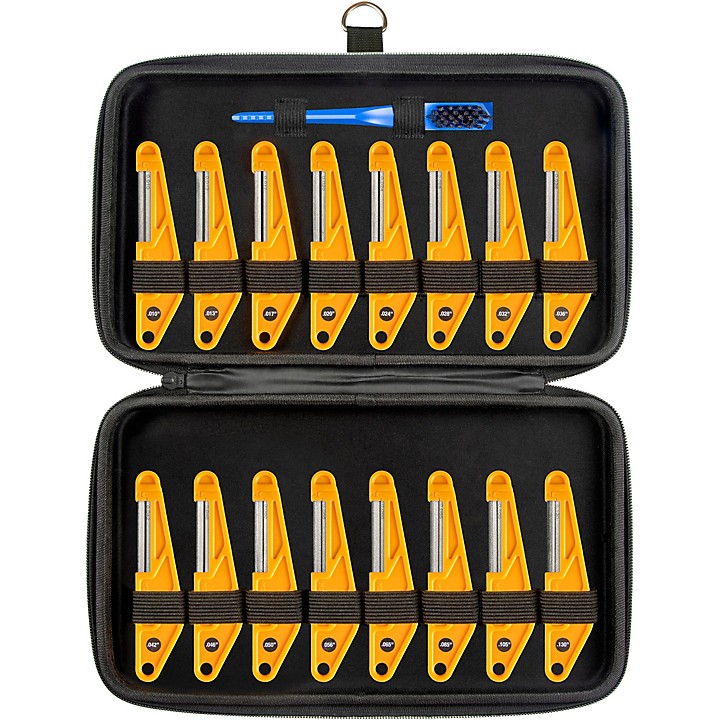 16-piece set of nut files, with sizes ranging from .010" to .130".
The patent-pending nut files from MusicNomad feature an innovative diamond coating and round "string-shape" blade design that delivers smooth, precision cuts. Capable of cutting and polishing slots at the same time, they hold steady while you're working, as opposed to the drifting of common toothed files. The industrial, even diamond coating works on the most common nut materials, including nylon, bone, graphite and TUSQ, as well as on saddles. Each nut file has an ergonomic handle for total comfort and control of your cut, as well as the option to remove the blade from the handle as an alternative cutting option.
The MusicNomad Complete Shop Set includes all 16 sizes of their diamond-coated nut file—from .010" to .130", suited for electric, acoustic and classical guitars, as well as five string basses—in addition to an organizational storage case and cleaning brush.
Features
Entire 16-piece nut file set, including sizes: .010", .013", .017", .020", .024", .028", .032", .036", .042", .046", .050", .056", .065", .085", .105" and .130"
Comes with an organizational storage case and a cleaning brush (dimensions: 12" x 7" x 2")
Innovative diamond-coated, round "string-shape" blade design that won't bend, delivering smooth, precision cuts
Laser-engraved size on each blade, plus ergonomic handle and workbench hang hole
Allows for cutting and polishing at the same time for new or existing nut slots
Works on most common nut materials, including nylon, bone, graphite and TUSQ, as well as on saddles