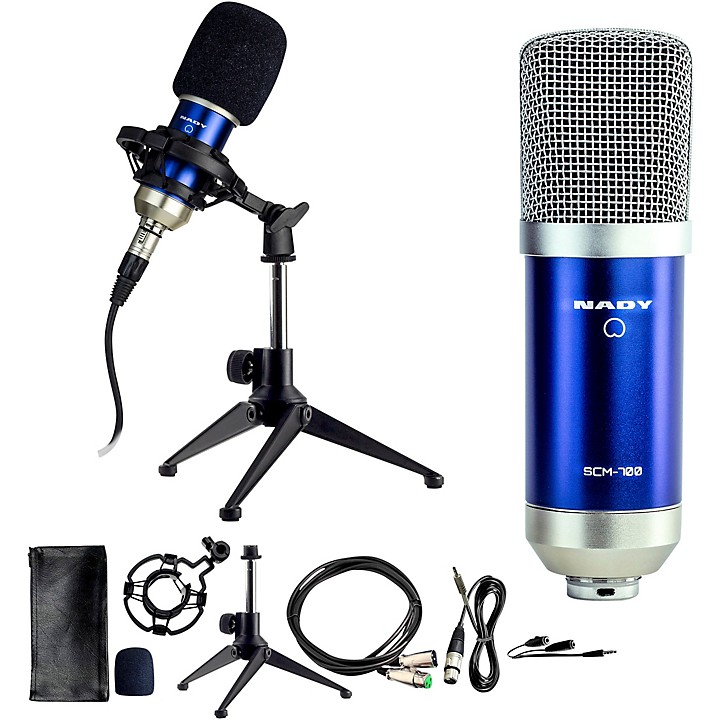 Complete microphone kit for recording and podcasting.
The Nady SCM-700 Condenser Microphone Recording Kit is the perfect package for any recording application, but most especially for podcasting, voice-overs, and recordings with smartphones and tablets. This kit is equipped with eight separate items that all work together to create a mobile recording and broadcasting platform.

First, the microphone. The SCM-700 Studio Condenser Microphone can operate with a smartphone or a tablet using the included XLR to 1/8" TRS cable. Performance is increased when you use it with an interface and a computer, and send it 48 volts of phantom power.

It also comes with a heavy-duty XLR to XLR cable to connect to an audio interface or mixer, an 1/8" TRRS adaptor with microphone input and headphones output for use with smartphones/tablets, a shockmount,windscreen, desktop tripod, and durable carrying bag for easy transport.

Features
Condenser microphone
Heavy-duty XLR cable
Cable that terminates in 1/8"
Windscreen, shock mount
Desktop tripod
Carrying bag