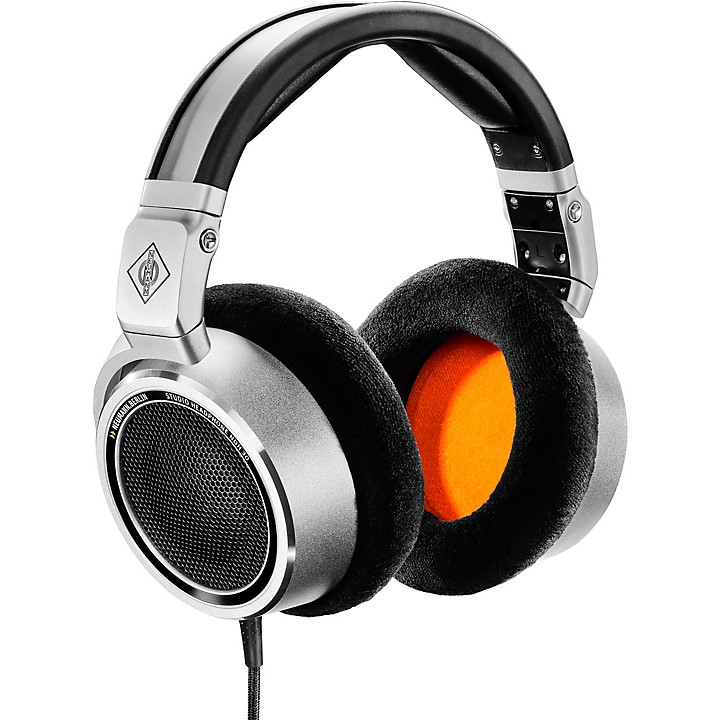 Reference-class open-back studio headphone for editing, mixing and mastering.
The Neumann NDH 30 is a circumaural, open-back headphone with outstanding detail resolution, high-precision stereo imaging and razor-sharp localization. Its linear soundstage and superior transient response make it suitable for the most demanding applications, such as mixing and mastering. The NDH 30 was developed with the aim of making the reference sound of a Neumann studio monitor setup available everywhere in the form of an easily transportable headphone. At the same time, the NDH 30 forms its own sound reference in terms of headphone reproduction. Its superior sound characteristics make the NDH 30 the first choice for mixing and mastering. Thanks to its high long-term comfort, it is also ideal for high-precision editing.

With its high linearity and detail resolution, the NDH 30 is perfectly compatible with a loudspeaker system that has been optimally calibrated using Neumann Automatic Monitor Alignment. Mixes begun at home or on the road using the NDH 30 can be seamlessly continued in the studio using KH-Line loudspeakers—and vice versa. Since consistency and reliability are essential in mixing and mastering, the NDH 30 is manufactured to extremely tight tolerances, so each headphone sounds exactly the same.
Specifications
Transducer: 38 mm dynamic driver with neodymium magnet
Impedance: 120 ohms
Frequency range: 12Hz–34kHz (–3dB)
Peak power handling: 1,000 mW
Continuous power handling: 200 mW
Sound pressure level: 104dB SPL (1kHz, 1 VRMS)
Total harmonic distortion (THD): < 0.03 % (1kHz, 100dB SPL)
Features
Outstanding linearity and transient response
High spatial resolution
Sound and mix compatibility with Neumann KH-line speakers
High long-term comfort
Internally balanced cable (detachable)
Foldable for easy transport