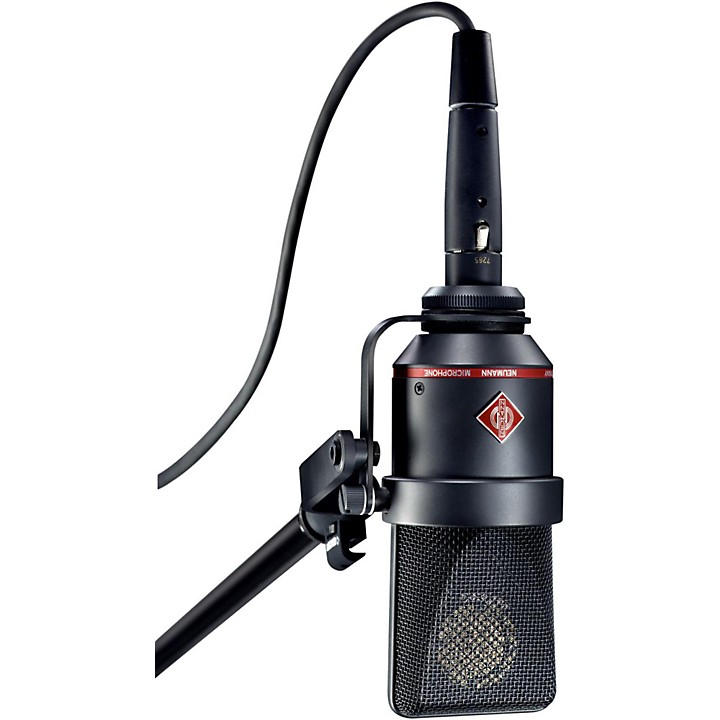 Colorless Neumann mic for a broad variety of applications.
The TLM 170 R condenser microphone is a large diaphragm microphone with multiple polar patterns. Its sound has a very transparent characteristic, in contrast to some of Neumann's other microphones that have a distinct personality.
As a result, the TLM 170 R is appropriate for many different applications in professional recording studios, broadcasting, film and television, and semiprofessional productions. The polar patterns can be selected either at the microphone itself, or controlled remotely through the special N 248 power supply.

Acoustic features
The large diaphragm capsule inside the grille has a very smooth frequency response for all polar patterns over a wide acceptance angle. The curves are flat and parallel to the 0 frequency curve up to 10 kHz within an angle of ± 100.

The TLM 170 R has a very even diffuse-field response for all polar patterns. This is important in a reverberant environment, as more reflections arrive at the microphone from different directions. The acoustic information is not affected in its tonal quality when recorded by the microphone. This characteristic is achieved without resorting to corrective resonance effects.

Therefore, the microphone maintains an excellent impulse response reproducing all transient phenomena of music and speech without any coloration. The capsule is elastically mounted to avoid any structure borne noise that could interfere with its operation.

Polar patterns
In addition to the usual directional polar patterns: omnidirectional, cardioid, and figure-8, Neumann has added a hyper-cardioid and wide-angle cardioid characteristic. When compared to the standard cardioid pattern, the hyper-cardioid characteristic suppresses sound from the side more efficiently. The wide-angle polar pattern is especially useful to record large sound sources.

Remote control
The N 248 controls the polar pattern remotely by varying the phantom voltage. The range is ± 3 V of the nominal 48 V value. (According to DIN standard a range of ± 4 V is permissible.)

The rotary switch on the microphone must be in the position R (= remote control). In this switch position the TLM 170 R microphone analyses the absolute value of the phantom power and selects the corresponding polar pattern. A standard 3-pin microphone cable is used, similar to the microphone's conventional operation. Cable lengths may be up to 300 m (1000 feet).

Electrical features
The letters TLM stand for "transformerless microphone". With TLM technology the usual output transformer is replaced by an electronic circuit. As with traditional transformers, it ensures good common mode rejection, and prevents RF interference, that may influence the balanced audio signal.

Use on tripods
The TLM 170 R is provided with a tilting side bracket to attach the microphone to booms or stands. The bracket is equipped with rubber elements that effectively protect the microphone from mechanical shock. If necessary, it can be mounted on the other side of the microphone as well.
When using the IC 4 cable (for example to suspend the microphone from the ceiling with the MNV 87 auditorium hanger), the bracket and its holder need to be removed. The microphone can then be connected to the swivel mount connector of the cable.

Filter and attenuation
The TLM 170 R microphone has a 10 dB attenuation switch to prevent the input of the following unit from being overloaded. A second switch at the rear attenuates the frequency response below 100 Hz to suppress undesired structure-borne noise.


Specifications
Acoustical operating principle: Pressure gradient transducer
Directional pattern: Omnidirectional, wide angle cardioid, cardioid, hypercardioid, figure-8
Frequency range: 20 Hz ... 20 kHz
Sensitivity at 1 kHz into 1 kohm: 8 mV/Pa
Rated impedance: 50 ohms
Rated load impedance: 1 kohms
Equivalent noise level, CCIR1): 26 dB
Equivalent noise level, A-weighted1): 14 dB-A
Signal-to-noise ratio, CCIR1) (rel. 94 dB SPL): 68 dB
Signal-to-noise ratio, A-weighted1) (rel. 94 dB SPL): 80 dB
Maximum SPL for THD 0.5%2): 144 dB
Maximum SPL for THD 0.5% with preattenuation2): 154 dB
Maximum output voltage: 10 dBu
Supply voltage (P48, IEC 61938): 48 V ± 4 V
Current consumption (P48, IEC 61938): 3 mA
Matching connector: XLR3F
Weight: 625 g
Diameter: 60 mm
Length: 152 mm
Features
Audio
Frequency response: 20Hz to 20kHz
Max SPL: 144 dB
Pattern and type
Capsule: Condenser
Pattern: Multi-pattern
Type: Mounted
Applications: Studio, stage, theatrical
Phantom power required: Yes
Size and weight
L x W x (D): 2.4 x 6 "
Weight: 1.4 lbs.
Included accessories
Case: Pouch
Clip: Hard rubber
Power supply: No
WARNING: This product can expose you to chemicals including Lead, which is known to the State of California to cause cancer, and Lead, which is known to cause birth defects or other reproductive harm. For more information go to www.P65Warnings.ca.gov.