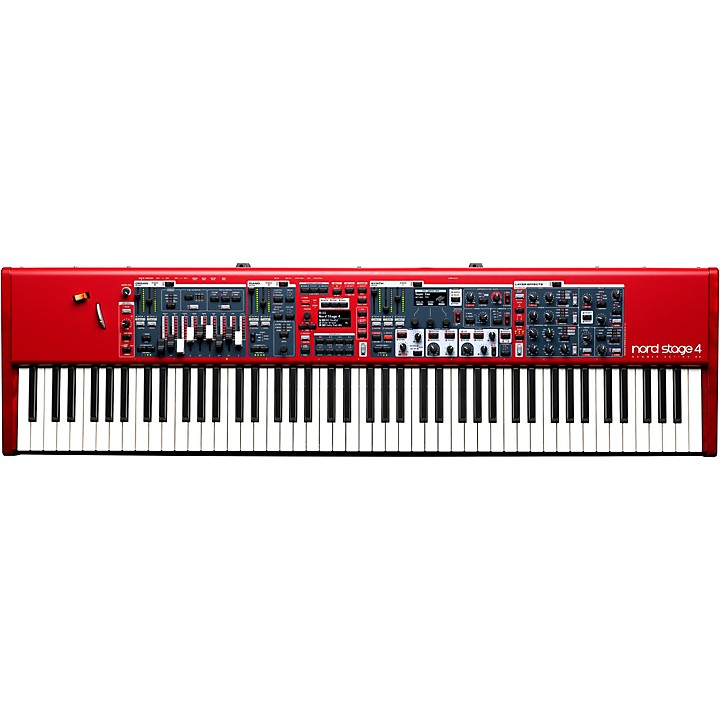 88-key keyboard with premium triple sensor keybed and versatile effects.
The Nord Stage 4 keyboard features an enhanced panel design with dedicated LED faders for each Layer, providing exceptional overview and flexibility when creating sounds and performing live. The Preset Library is packed with inspiring ready-to-use Piano, Synth and Organ sounds for quick and smooth patch creation. The Layer Scene lets you seamlessly switch between two different sound setups at the touch of a button. With a powerful Effect section, versatile pedal options and a premium Triple Sensor keybed, the Nord Stage 4 offers a new level of musical expression.

This version comes with a Nord soft case for transport, and a triple pedal which allows you to add sustain pedal, soft pedal and costenuto.
Features
General
Master Level Control
Wooden Pitch Stick
Modulation Wheel
512 Programs - 8 Banks with 8 Pages each. Each Page has 8 Program locations
Preset Library with Organ, Piano and Synth Presets, including effects. 2x64 Organ Preset locations, 2x64 Piano Preset locations, 8x64 Synth Preset locations
8 Live Programs
2 Individual Layer Scene Setups
3 Morph sources: Modulation Wheel (also controllable by Swell pedal), Control Pedal, Aftertouch
Stereo and Mono output routing options
Programmable Transpose +/- 6 semitones
Master Clock functionality with manual, external and tap-tempo rate control
Internal and MIDI clock source
MIDI over USB functionality
Level control
Aftertouch
Up to 3 Split Points (4 Keyboard Zones) with visual LED indication between zones
3 Split Point width (crossfade) options: Lrg, Sml or Off
Organ Section
Nord C2D B3 Tone wheel Organ simulation
VOX Continental and Farfisa models
2 Digital Pipe Organ models
B3 Bass mode
Physical Drawbars with LED graphs
Preset or Drawbar Live mode
Percussion controls
Vibrato/Chorus control
2 Layers (2-Part Multitimbral)
Piano Section
2GB memory for Piano sounds
All sounds can be replaced using Nord Sound Manager (Mac/Win)
120-voice polyphony
Categories: Grand, Upright, Electric, Digital, Layer and Clav/Harpsichord
3 Selectable Keyboard Touch Curves (Heavy, Medium, Light)
Piano Timbre controls with custom settings for Electric Pianos and Clavinet
String Resonance for acoustic Grand Pianos and Uprights
Selectable Soft Piano Release
Pedal Noise when used with Nord Triple Pedal 1, Nord Triple Pedal 2 or Nord Sustain Pedal 2 on selected acoustic and electric pianos
Dynamic Compression
Unison functionality
2 Layers (2-Part Multitimbral)
Synth Section
Nord Wave 2 Synth Engine with Sample Playback
Dedicated OLED Display for Waveform/Sample selection and parameter editing
1GB Memory for Nord Sample Library
All samples can be replaced using Nord Sound Manager (Mac/Win)
46-voice polyphony
Oscillator Types: Analog (including Super, Noise and Misc waveforms), Digital Waves, FM and Sample
Analog Waveform options: Pure, Shape, Shape Sine, Multi, Super, Sync, Bell, Misc (Noise)
Classic Transistor Ladder Filter (LP M), 12 & 24 dB Low Pass, High Pass, Band Pass and combined Low Pass/Band Pass (LP+BP) filter
Filter Drive: Off, 1, 2 and 3
Filter Tracking: Off, 1/3, 2/3 and Full
3 Unison modes
Vibrato modes controllable from Mod Wheel, Aftertouch and pedal
Filter envelope (Attack, Decay/Sustain, Release) with Velocity control
Amplitude envelope (Attack, Decay/Sustain, Release) with Velocity control
Oscillator envelope (Attack, Decay/Sustain, Release) with Velocity control
LFO with 5 waveforms/modes: Square, Triangle, Ramp Dn, Ramp Up and Sample & Hold
Advanced Arpeggiator with Arp, Polyphonic and Gate modes
Arpeggiator Patterns for all modes, with Accent and Pan options
LFO and Arpeggiator synchronizable to Master Clock
3 Layers (3-Part Multitimbral)
Effects
Mod 1: Tremolo, Auto Pan, Ring Modulator, Wah-Wah, Auto-Wah, Pump (Sidechain modulation). Variation for each effect
Mod 2: Phaser, Flanger, Vibe, Chorus, Ensemble, Spin. Variation for each effect
Delay with Tempo, Feedback and Mix (Dry/Wet) controls, Ping Pong (stereo taps), Tap-Tempo, Feedback Filter (HP/LP/BP), Feedback Effects with Variations and panel selectable Analog mode.
3 types of Amp/Speaker simulations, Twin, JC and Small. Variation for each model
Filter Mode (HP24/LP24) with Cut-off, Resonance and Mix controls
Tube amp simulation with adjustable overdrive
3-band equalizer with sweepable mid. EQ ranges: 100Hz, 200Hz–8kHz and 4kHz
Rotary Speaker: selectable speed (Stop, Slow and Fast) and separate overdrive
Effect rates/tempo can be synchronized to the Master Clock
Compressor with Fast Mode
Reverb: 6 algorithms (Spring, Booth, Room, Stage, Hall and Cathedral) with Dark/Bright modes and Variation/Chorale options
Keyboard
Nord Stage 4 88: 88-key Triple Sensor Hammer Action keyboard with Aftertouch. Range: A-C
Connections
4 Assignable Audio Outputs - 1/4", 6.35 mm jacks, unbalanced
Stereo Headphone output - 1/4", 6.35 mm stereo jack
1 Monitor input - 1/8", 3.5 mm stereo jack
Sustain Pedal - 1/4", 6.35 mm jack. Compatible with Nord Sustain Pedal 2 (continuous sensor), Nord Triple Pedal 1 and switch type pedals
Triple Pedal - 5-pin DIN connector. Compatible with Nord Triple Pedal 2
Rotor Pedal - 1/4", 6.35 mm jack. Use a momentary pedal or a switch type pedal
Organ Swell Pedal - 1/4", 6.35 mm TRS stereo jack
Control Pedal - 1/4", 6.35 mm TRS stereo jack
Footswitch input - 1/4", 6.35 mm jack. Use a momentary two-button pedal or a single switch type pedal.
MIDI In - 5-pin DIN connectors
MIDI Out - 5-pin DIN connectors
USB - type B connector for USB MIDI, Software Update and Sound Transfer
Power Cord with IEC C14 connector
Included Accessories
User Manual
Power cord
USB cord
Dimensions
1,282 mm (50.5") x 121 mm (4.7") x 349 mm (13.7")
Weight