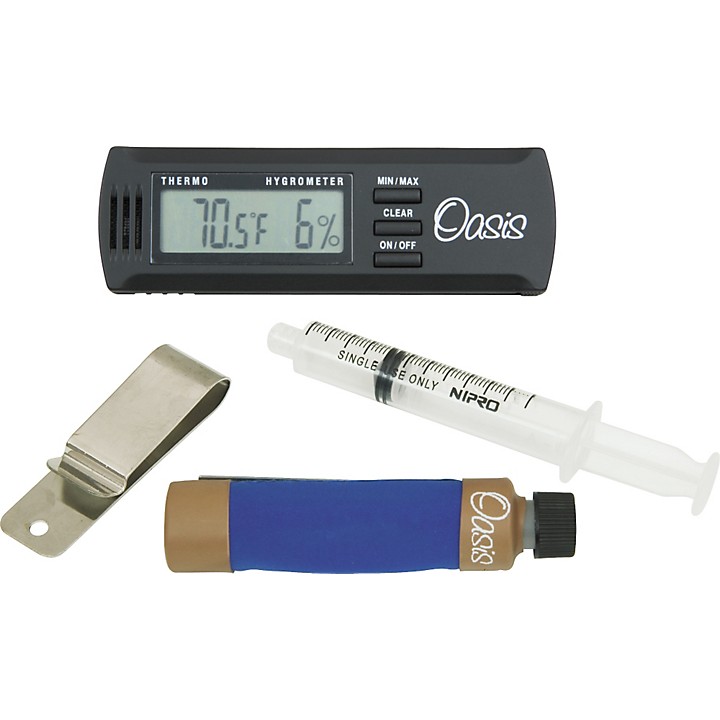 Everything you need for safe and simple guitar humidification.
Oasis' OH-6 instrument humidifier keeps your guitar, or any other wooden instrument, in prime condition with the correct level of humidity. It's important to keep the relative humidity above 40% to prevent the instrument from cracking. With this comprehensive set, you can measure humidity levels and administer the instrument humidifier. It includes the Oasis OH-6 Case Humidifier and OH-2 Digital Hygrometer with a clip.

OH-6 Case Humidifier

The huge success of the original Blue Oasis sound-hole humidifier has brought many inquiries about ways to provide humidification for other instruments including violins, violas, cellos, mandolins, ukuleles, jazz guitars and guitars with flat top cases.

After careful consideration, Oasis decided the best approach to solving this challenge was to develop a humidifier that attaches to the inside of the instrument case. Finding a secure way to attach the humidifier to the inside of the case, and still have it easily removed and re-attached, was no small challenge.

With proven technology, the Blue Oasis humidifier, Oasis inserted two neodymium magnets in the seam of the humidifier. The magnets then attach to the instrument case using either a steel belt style clip or a stainless steel strip with adhesive backing. The belt style clip fits over the side of the case and provides a flat vertical surface for the magnets to adhere. The adhesive backed stainless steel strip allows for either vertical or horizontal attachment anywhere there is a flat surface inside the case. An advantage of this type of humidifier is the flexibility to position the humidifier in a wide variety of locations within your instrument case.

A 10cc. syringe is also included. The syringe will increase the user's control during filling or refilling the humidifier. Since the humidifier holds about 32cc's of water, it will take 3+ syringes of water to fill the first time. After that, refills should only take 1+ syringe of water. As always, Oasis recommends the use of distilled water which will extend the useful life of your humidifier.

OH-2 Digital Hygrometer w/clip

A guitar, or any other stringed musical instrument made of wood, is at risk of cracking when the relative humidity drops below 40%. The Oasis Digital Hygrometer accurately measures relative humidity and can help you decide when to use your Oasis Guitar Humidifier. Because relative humidity varies greatly, even inside your home, we recommend that you keep your hygrometer close to your instrument.

With the convenient case clip, it is now possible to measure the relative humidity inside your guitar case. The new clip attaches to the back of the hygrometer and is mounted on the flap of the supply box inside your guitar case.
Specifications
OH-2 Digital Hygrometer w/clip
Measures: 4" x 1.25" x .375"
Humidity
Measuring Range: 20% to 90% RH (Relative Humidity)
Resolution: 1%
Updating time: 10 seconds
Temperature
Measuring range: 0-50C or 32-122F with 0.1C/0.1F resolution
(3.0 v 2032 battery included - annual replacement needed)

Features
Oasis OH-1 Original Guitar Humidifier
You can see when Oasis is ready for refill
Long lasting humidification
Won't leak due to overfilling
Two levels of leak protection
OH-2 Digital Hygrometer w/clip
Guaranteed for 5 full years
Super-slim profile design with secure Velcro mount fits anywhere
Advanced humidity sensor maintains exceptional accuracy for years
Records high/low temperatures
Measures temperature in C or F
On/off switch