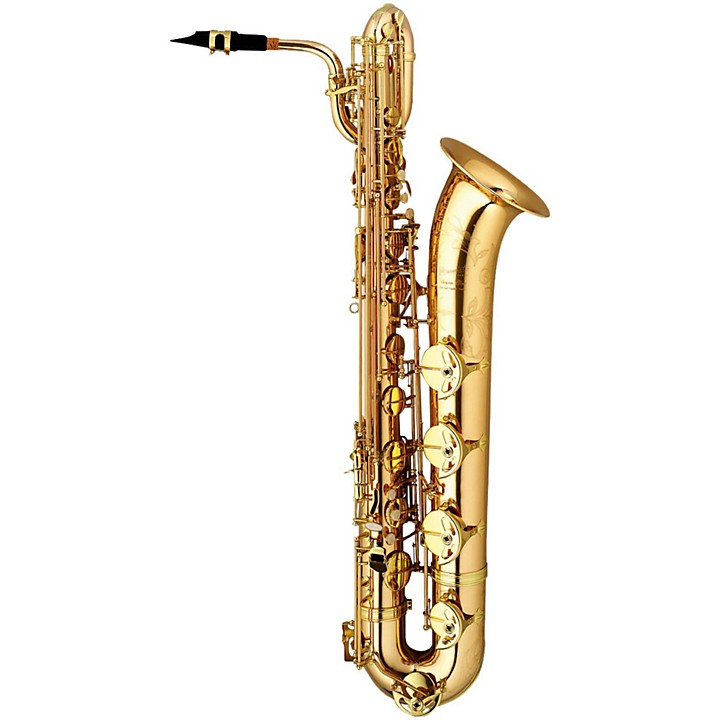 Big bottom all the way to A.
The P. Mauriat PMB-301 Professional Baritone Saxophone delivers a tone as powerful as its size implies. This professional baritone saxophone offers an extended low range down to low A and a readily accessible altissimo register that reaches up to high F♯, allowing players to flex their skills over the instrument's expansive range. As with all P. Mauriat saxophones, the 301 baritone provides stunning esthetics, precision ergonomics and superior intonation for an unparalleled playing experience. The 301GL's gold brass body and hand-engraved bow and bell produce a harmonically rich, full-bodied tone that cuts through any ensemble. The P. Mauriat PMB-301 is a bold baritone with a voice as muscular as its gleaming looks.


Low A Key Provides an Extended Range

The PMB-301's low A key gives players access to a note many baritone saxophones cannot produce, allowing them to explore the instrument's deepest tones. The 301GL's altissimo register reaches up to high F♯, demonstrating the baritone's impressive range and versatility. With the ability to play both powerfully low and singingly high notes, the 301 proves itself an adept soloist or section player in any ensemble.


Handcrafted Gold Brass Body

The 301's gold brass body gives it a distinctly vintage tone and appearance. P. Mauriat's meticulous 400-strike hammering process produces an instrument body with unparalleled resonance. The gold brass alloy provides a warm yet focused sound ideal for jazz, funk and classical playing. Paired with the 301's precision-drawn tone holes and hand-engraved bell, the gold brass body helps create an instrument with looks and sound evocative of a classic era.


Pearl Key Touches and Hand-Engraved Bell

Elegant abalone key touches and hand-engraved bell accents give the 301GL a lavish esthetic. P. Mauriat's craftsmen hand engrave each 301GL bell to produce instruments with a customized, artisanal feel. The abalone key touches not only enhance the baritone's opulence but also provide a smooth playing surface. These premium appointments demonstrate P. Mauriat's commitment to designing professional-grade saxophones that are as stunning to behold as they are gratifying to play.


Specifications
Range to high F#
Low A
Standard neck
Hand-engraved bell and bow
Genuine abalone key touches
Professional class
Features
Low A to high F#
Stunning finish
Gigantic sound
Agile keywork
Fast response