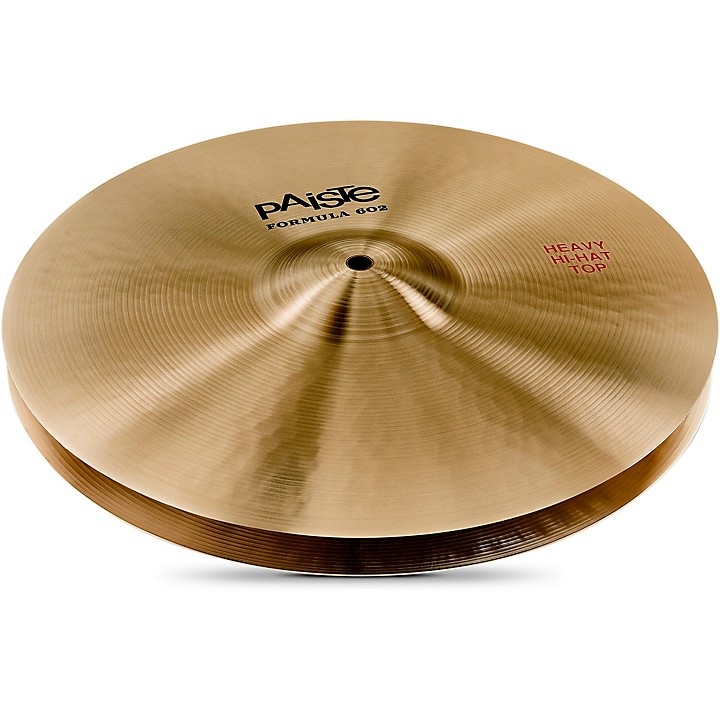 Heavy hi-hat cymbals made with bell bronze, based on namesake series from 1960s
Recreated from the original Formula 602 bell bronze cymbals launched in 1959, these Paiste Formula 602 heavy hi-hats are perfect for precise, articulate playing thanks to their crisp sound. They stand up well to heavier genres, cutting brightly through even the loudest playing situations. They are available in 14 and 15" sizes, giving the heaviest players an option for a little extra power.

All cymbals in the relaunched Formula 602 series are based on master cymbals from Paiste's archive and made with the same traditional hand production techniques as in the 1960s. This process keeps their sound faithful to the iconic series that helped revolutionize popular music with its purity, control and projection.

Specifications
Sizes and Purpose
Quantity: 1
Type: Hi-hat(s)
Sizes (in): Multiple
Construction
Material: Bronze
Hammering: Hand
Lathing: Full
Cymbal weight: Heavy
Bell: Standard
Other
Finish: Natural
Country of origin: Switzerland
Features
Heavy bell bronze hi-hat cymbals
Crisp sound is perfect for precise playing
Cuts through loud environments when played heavily
Recreated using master cymbals from the original Formula 602 series
Made with same hand production techniques from the 1960s
Fully lathed, natural finish