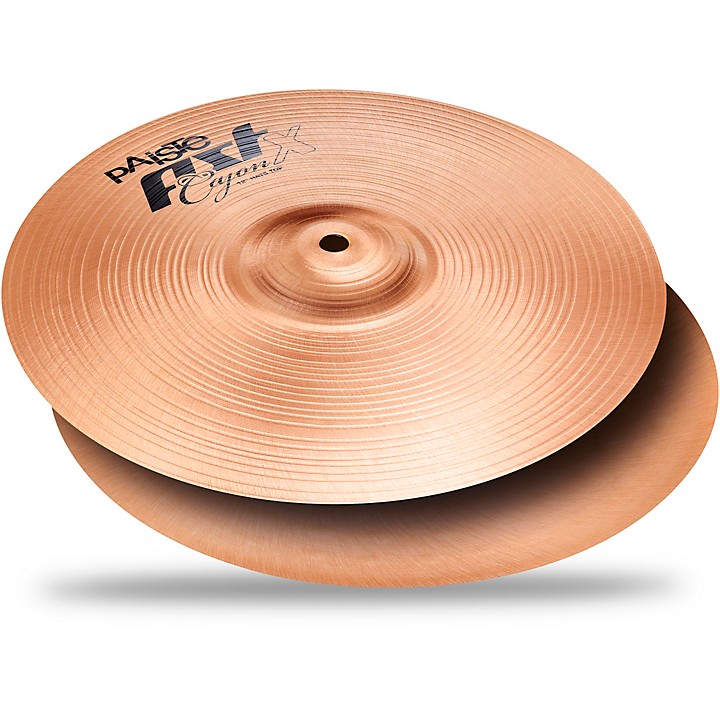 A noisy, dirty, trashy effects hats designed for cajon players or as another setup for drummers.
With the new PSTX series Cajon cymbals, the popular crate drum, cajón, transforms into a complete drum kit. PSTX Cajon cymbals were developed to match the typical sound characteristics of the cajón, and are well suited for playing with hands, rods, brushes or light sticks.

Due to a thin top, PSTX 12" Cajon Hats respond rapidly and accentuate each beat with a bright, dry sound and clear definition. The heavy bottom cymbal yields a crisp, clear chick. This hi-hat not only satisfies the needs of cajón players and percussionists, but also works for drummers as an auxiliary hi-hat.

The PSTX Cajon hi-hats have a bright, crisp sound. Their narrow range and clean mix make them ideal for percussionists or as auxiliary effect hats for drum set players. They have a fast, responsive feel and a clear, defined open sound with a crisp chick sound. They're an articulate hi-hat pair primarily conceived to accompany the cajon, but they're also well suited for percussionists or drummers in acoustic styles or as an auxiliary hi-hat.
Specifications
Sizes and Purpose
Quantity: 1
Type: Hi-hat(s)
Sizes (in): 12
Construction
Material: Cast alloy
Hammering: Machine
Lathing: Full
Cymbal weight: Thin top, heavy bottom
Bell: Standard
Other
Finish: Traditional
Country of origin: Switzerland
Added value: No
Features
Thin top / heavy bottom weight
Low to medium loud volume
Dry, defined stick sound
Fairly lively intensity
Short sustain
Crisp chick sound