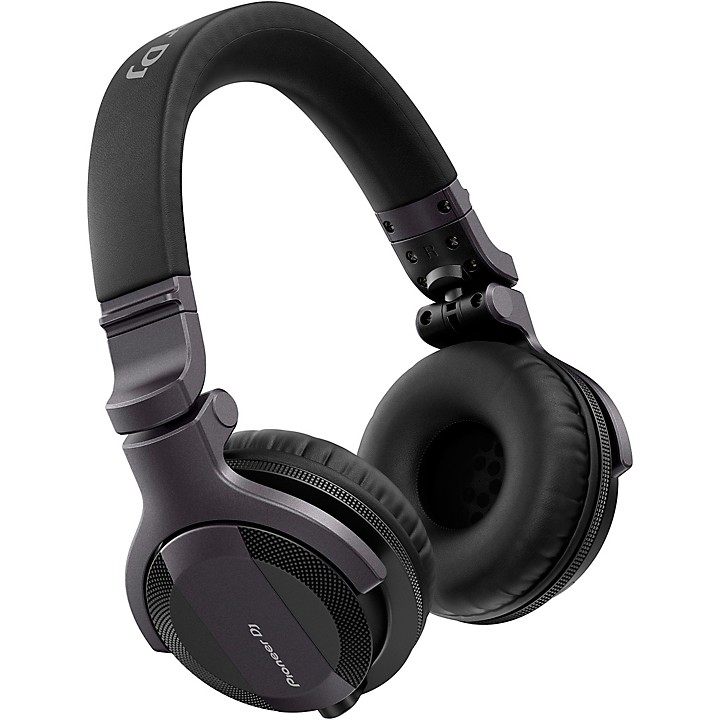 Features the same drivers used in the pro-grade HDJ-X5 headphones.
The Pioneer DJ HDJ-CUE1 headphones are ideal if you're new to DJing. They feature a professional look and feel, rich sound, foldable design, and a high-quality finish—all for a modest price.

Using the same drivers from our professional HDJ-X5 model, the HDJ-CUE1 headphones are specially tuned to make the most of the low frequencies in the bass and kick drums that are important for mixing. This great sound quality is essential so you can hear all the details in the music, enabling you to decide if a track is good enough to play at your next party, and so you'll know exactly what your friends are going to hear when you drop the track in your set.

Whether you're performing a mix or just relaxing and listening to music, comfort is crucial. To find the perfect fit, some DJs place their headphones on their head, while others like to drape them around the neck. Either style works great with the HDJ-CUE1 models, which are comfortable to use however you wear them thanks to the swivel mechanism and flexible, cushioned headband. They've passed our harsh durability tests too, so you can be sure they'll handle bumps and knocks when you're on the move or passing them between friends during back-to-back sets.

To help you express your own unique style, there's an optional accessory pack available that comes in five different vibrant colors. Choose one of these packs and customize your HDJ-CUE1 headphones by swapping the cable and earpads for the color that best reflects your personality.

High-quality sound
When you're DJing at a party or just listening to tracks at home or on the move, you'll hear the true richness of your music – loud and clear. Specially tuned to make the most of the low frequencies in the bass and kick drums, all HDJ-CUE1 models feature dynamic drivers. So, as well as feeling the bass in the low-end, you'll hear the clarity of the mids and high-end sounds. This is really helpful for performing better mixes because you can EQ each track more effectively, get two tracks working perfectly together, and create a smoother overall sound.


Comfortable pro-style design
The HDJ-CUE1 DJ headphones have been designed to look and feel at home alongside our professional range. They're lightweight and they fold up neatly so you can easily fit them into your bag. And however you like to wear your DJ headphones, you'll find a comfortable fit. The swivel mechanism enables you to turn the ear cups a full 90 degrees, so you can easily listen with one ear while the other cup rests on the side or back of your head, or while your headphones are draped around your neck. The short, coiled cable is lightweight and keeps things tidy, but it stretches so you can move freely when playing music.

Built to last
DJing often puts excessive stress on headphones and the HDJ-CUE1 models are designed to handle heavy use. Each moving part has passed the strict in-house durability tests that we put all our headphones through. Extra-strong metal sliders in the comfy headband bring reliability and extend the life of your DJ headphones, and the cable's bayonet connector prevents accidental disconnections while the L-type mini-jack at the other end means you won't knock it out of place when you're using DJ gear. You can also remove the cable from the DJ headphones when you're not using them, preventing stress on the contacts.

Features
40mm drivers for excellent bass response 5Hz–30kHz frequency response 104dB sensitivity