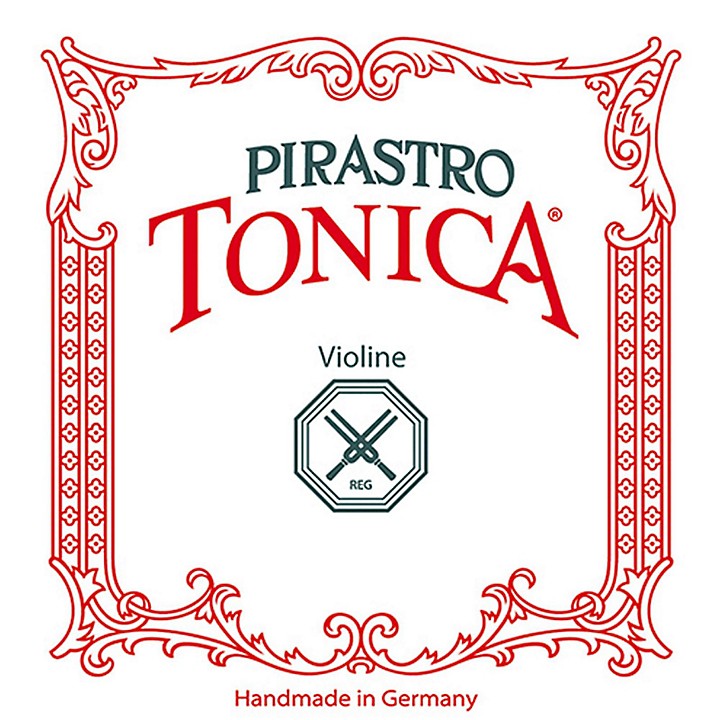 A vibrant tone and responsive play at an attractive price.
The Tonica Series Violin String Set from Pirastro offers violinists an affordable yet high-quality string option with an upgraded synthetic core and improved tone. The Tonica strings are characterized by a lively, open sound with great projection and brilliance, allowing the true voice of your violin to shine through. An easy response and fast playability mean smooth transitions between notes and effortless articulation. The set is also balanced harmoniously across all four strings.


Newly Engineered Synthetic Core Provides Improved Tone
Pirastro has reengineered the Tonica strings with a new synthetic core and winding technique to optimize tone and playability. The result is an overall livelier and rounder sound with less extraneous noise. The projection and brilliance have also been enhanced to allow pianissimo passages to ring out while retaining the warmth violinists expect.


Responsive and Balanced for Smooth Playability
With an easy response and balanced set harmony, the Tonica strings make violin playing feel effortless. Notes start quickly with a light touch of the bow and cross-string bowing feels seamless. The balanced tension across strings means chords ring out with a resonant, harmonious tone. The fast response also allows for crisp articulation and varied bow techniques from spiccato to legato.


High Quality at an Attractive Price
While the Tonica Series Violin String Set offers an upgraded design and improved tone, it remains an affordable, high-quality choice for violinists on a budget. The synthetic core is resistant to changes in humidity, allowing the strings to stay in tune. The set is also long-lasting, providing weeks of consistent tone before needing replacement. For violinists seeking an all-purpose string with a vibrant, projecting tone, the Tonica Series is an excellent value.

Order the Tonica Series Violin String Set today.