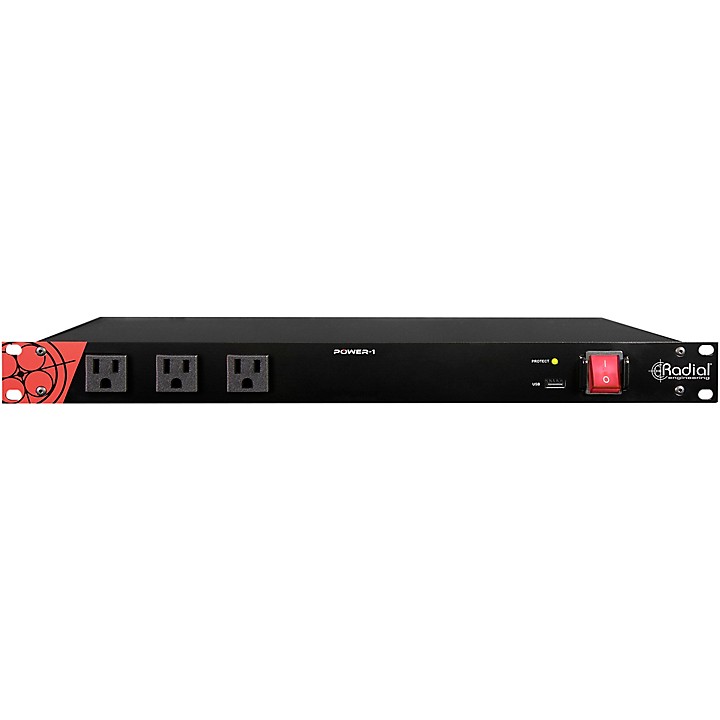 Superior thermal protection with a much longer lifespan.
Designed without compromise by Radial

Radial Power clean surge suppressors give musicians, engineers, producers, studio owners, commercial facilities, and anyone working with valuable electronic equipment peace of mind protection from power surges that can damage or destroy music equipment instantaneously.

Unlike competitive products that utilize low quality MOV's (Metal Oxide Varistor) for surge protection, both Radial Power units are built using a USA made MOV. This critical component has been proven to offer superior thermal protection and have a much longer lifespan than the alternatives. Both units utilize shunt mode technology and are non-ground contaminating for lower system noise.

A high-rejection RF interference lter is used to keep high frequencies and AM radio signals out of the power line, preventing contamination of audio signals. Additionally, both Radial Power models include a USB charging port for convenience in keeping mobile devices and accessories charged during recording sessions or performances.

Specifications
Load RatingMax Continuous Operating VoltageEnergy DissipationPeak Impulse CurrentNoise Attenuation
Differential-mode = 19 dB at 100 kHz, 41 dB at 1 MHz, and 42 dB at 10 MHz Common-mode = 10 dB at 100 kHz, 41 dB at 1 MHz, and 50 dB at 10 MHz
Surge Protection Method
Single mode, line to neutral
Power Cable
12 ft., grounded 3-wire, 14 AWG

Features
Get peace of mind protection from power surges.
WARNING: This product can expose you to chemicals including Carbon black (airborne, unbound particles of respirable size), which is known to the State of California to cause cancer. For more information go to www.P65Warnings.ca.gov