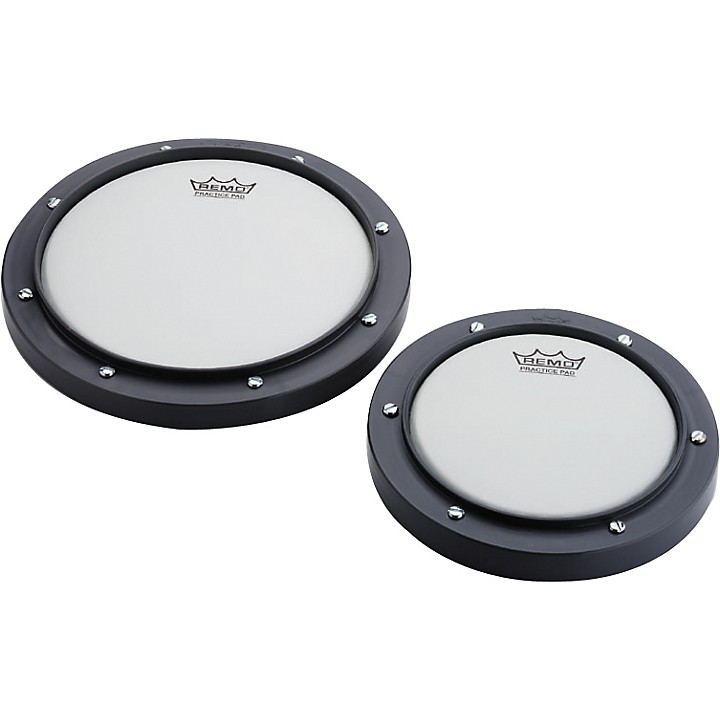 Don't settle for less than Remo quality, even when you practice.
The Remo Silentstroke 8" Practice Pad is the ideal low-volume practice solution for drummers seeking to keep their chops up without disturbing others. Fitted with a Silentstroke drumhead, it provides an 80% reduction in volume while retaining realistic response and playing feel. This pad can be mounted on a stand for upright playing, and its protective, grippy rubber bottom is perfect for tabletop use. For drummers committed to consistent practice, the Remo Silentstroke Practice Pad is a must-have tool.


Silentstroke Drumhead Muffles Sound by 80%
At the heart of the Silentstroke Practice Pad is Remo's innovative Silentstroke drumhead, which dampens the volume of playing by up to 80% compared to a standard drumhead. Despite its sound-reducing abilities, the Silentstroke drumhead maintains a realistic bounce and playing feel that allows drummers to practice proper techniques. The result is a pad that lets you play anytime, anywhere, without disturbing housemates, family or neighbors.


Non-Slip Rubber Bottom Provides Stability
The Silentstroke Practice Pad features a durable, non-slip rubber bottom that keeps the pad firmly in place during energetic playing. The grippy base allows you to place the pad on any tabletop or flat surface and start practicing right away. For those who prefer an upright playing position, the pad can also be mounted on most standard drum stands using the built-in stand mount.


Sleek, Durable Design for Maximum Longevity
Remo designed the Silentstroke Practice Pad with high-impact plastic and a matte black finish for an attractive, professional-looking product built to handle intensive use. The 8" diameter pad is perfectly sized for most spaces and provides ample surface area for practicing a range of drumming techniques, rudiments and stick control exercises. With its rugged yet portable design and volume reducing Silentstroke drumhead, the Remo Silentstroke Practice Pad is engineered for drummers committed to consistent, long-term practice.


Features
Bounce and feel of a real drum
Tunable
Protective rubber bottom
Mountable