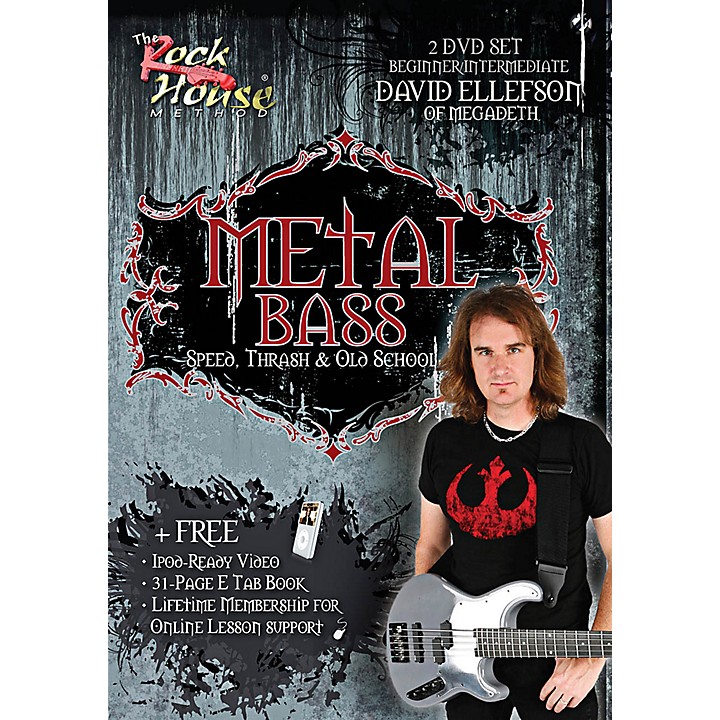 A DVD offering a complete arsenal for playing speed, thrash and old school metal.
In the Metal Bass Speed, Thrash & Old School DVD, legendary metal bassist David Ellefson reveals the fundamental skills that are required to play Metal Bass. The one-on-one lessons start with basics like holding the bass, hand positioning and reading tablature. The program then rips through key metal elements like playing with a pick and your fingers, how to mute, scale basics, exercises and alternate tunings. Learn rhythms & timing, octaves & fifths, how to create a great bass sound and more. David shows you how to play complete bass lines with drum and guitar backing tracks. This comprehensive program starts you at the beginning so that you can develop the skills needed to play any style of metal. It's a must have for aspiring Metal Bass players!

Each Rock House product includes free lifetime membership to Rock House's online lesson support system. Enhance your learning experience, links with instructors, download backing tracks, access message boards and much more. You'll connect with a community of musicians around the world learning to play music using The Rock House Method.
Features
Publisher: Rock House
Format: DVD
Author: David Ellefson
Artist: Megadeth
UPC: 882413000231
Run Time: 60 minutes