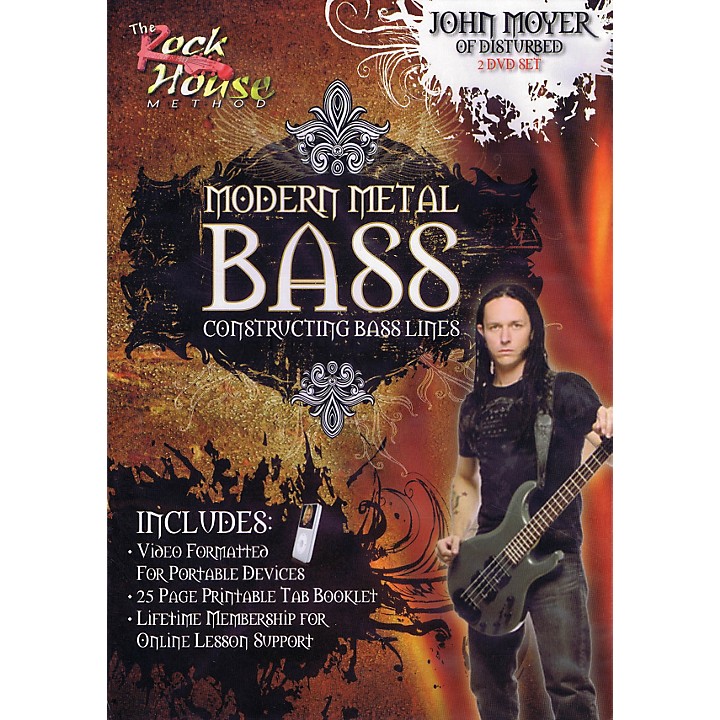 An instructional 2-disc DVD set on the dos and don'ts of modern metal bass.
This volume of Modern Metal Bass is a 2-DVD set with John Moyer of the band Disturbed, he shares the bass techniques that have made him a key part of propelling the band into the mainstream. Learn how he uses his pick to attack the strings and create an aggressive sound and techniques like octaves and fifths, hammer-ons, pull-offs and slides. John teaches how he adds transition notes chromatically to make bass lines flow. He reveals his signature method for writing, syncopates bass lines and teaches you to combine simple and complex techniques to create a sound that "cuts" through. John created custom backing tracks for this program that you will use to apply what you learn. It's packed with techniques that every aspiring metal bassist must know!

Each Rock House product includes free lifetime membership to Rock House's online lesson support system. Enhance your learning experience, links with instructors, download backing tracks, access message boards, and much more. You'll connect with a community of musicians around the world learning to play music using The Rock House Method.Length: 7.5"
Specifications
ISBN: 9781458422101
UPC: 884088636630
Width: 5.5"
Features
Constructing Bass Lines
Publisher: Rock House
Format: DVD
Artist: Disturbed
Author: John Moyer