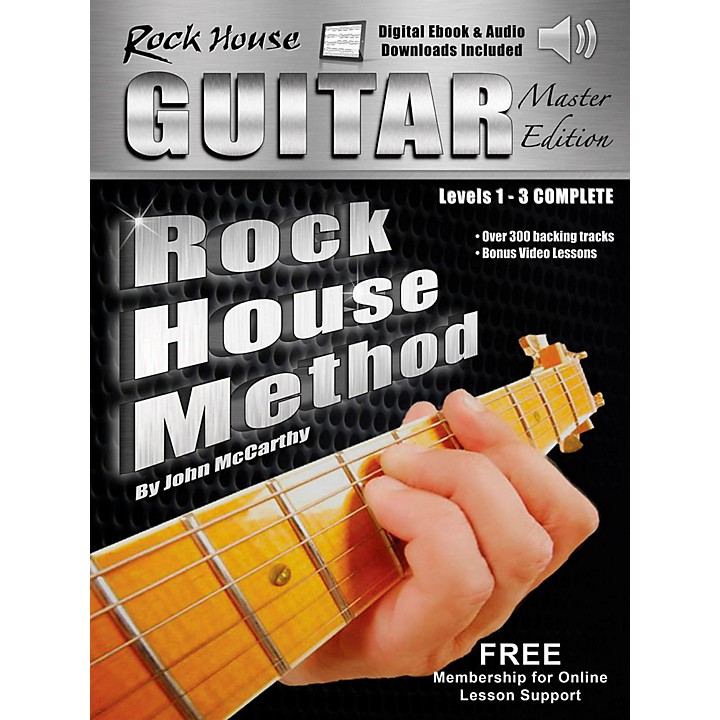 Comprehensive course to help you master guitar technique with video lessons, audio backing tracks and more.
Designed by John McCarthy, this Master Edition combines all three levels of this award-wining series in a complete course. Learn all the essential techniques needed to play all genres of music.

Start with how to hold the guitar for comfortable playing and fast, effective learning. Next, learn picking and strumming techniques, chords, rhythm, timing, and how they are used to play popular songs. Learn melodies, scales and the basics of the blues.

You will also learn lead techniques such as hammer-ons, pull-offs and bends, and how to put them together to play leads and riffs. As an added bonus, included are audio backing tracks and playing examples you can download that follow each lesson and let you apply them over full-band backing tracks.

Bonus Video Lessons
As an added bonus once you have registered at RockHouseSchool.com, you will receive free video lessons focusing on techniques to help you take playing the guitar to the next level.

Hear and Apply Each Lesson
Download audio backing tracks and demonstrations that correspond with each lesson in the book. Hear each lesson played slowly and at regular speed. Play songs and melodies over full band backing tracks to get the sensation of playing in a band. Register using the member number inside the last page of the book.

Lifetime Membership for Lesson Support
You get free membership to the Rock House Method Support System on the web. Use the member number found inside the book to register for lifetime support at RockHouseSchool.com. Use this fully interactive website to download backing tracks to play the examples over, enhance your learning experience, link with instructors and connect with a community of people around the world learning to play music using the Rock House Method.
Features
Over 300 backing tracks
Digital eBook and audio downloads included
Bonus video lessons
220-page book