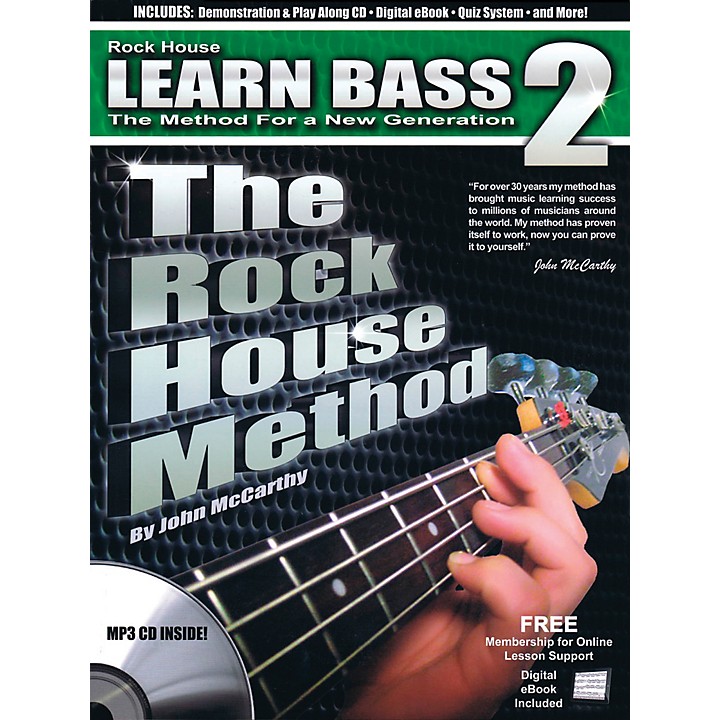 A second heaping helping of helpful tips on become a bass master.
Building on the techniques learned in Book 1, The Rock House Method - Learn Bass Guitar Book 2 starts with natural minor and major scales, single note patterns and how they connect across the neck. Learn bass techniques such as the finger drag, hammer-ons, pull-offs and how to apply them in bass lines. Learn the major scale formula to play them in any key, root notes, octaves and the notes in the 5th position. Walking bass lines, sixteenth notes, syncopated bass lines, intervals and drop D tuning are just a few of the things covered that will help you play song progressions and bass lines. From theory to complete songs this program will get you to the next level. This step-by step-course has 60 pages of lessons and can be used with a teacher or self-guided. INCLUDES: Digital e-Book, Play-along CD, Quiz System for Tracking Progress, Lifetime Web membership for 24/7 online lesson support.

Contact Rock House if you're interested in learning about their Certified Teaching Program.