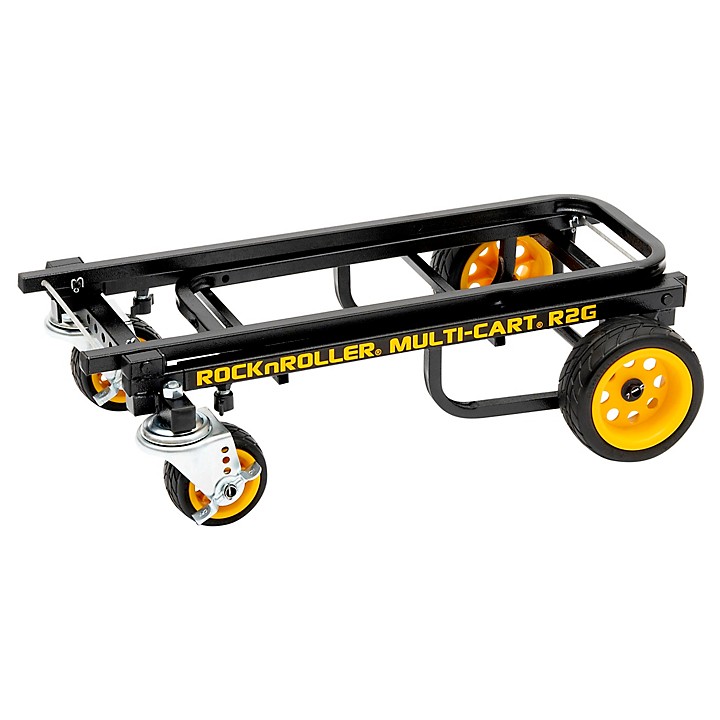 Conquer anything and travel easy with this mighty little roadie.
Don't let its compact size fool you, the RocknRoller Multi-Cart R2G expands from 26" - 39" with a 350 lb weight capacity. Due to it's smaller footprint it makes a great travel cart, and can even fit in the overhead bin on an airplane (26" x 14" x 6.5"). The R2G is outfitted with rugged, foam-filled no-flat 6 x 2" rear wheels and 4x2" front swivel Ground Glider casters that will allow you to move massive amounts of gear quickly and easily. The Ground Glider R-Trac tires ride smoothly with excellent traction, similar to pneumatic tires, but without the hassle of upkeep or repair.

The patented 8-in-1 cart can transform easily to adjust to various load sizes, allowing you to move large amounts of gear in no time at all. The textured powder coated steel is durable and also reduces slippage during transport.
Specifications
Tubing gauge: 16 gauge (0.065" wall)
Tubing size on main frame: .75" and 1" square steel tube
19mm axle
Polypropylene Hub with Polyurethane Foam tires
Powder-coated steel tube frame telescopes from 26"-39" in length with 25"/20" (front/rear) foldable sides
11" wide frame bed
6" x 2" R-Trac no-flat rear wheels and 4"x2" front Ground Glider casters with brake.
Load capacity: 350 lb/27 cu. ft.
Weight: 15.4 lb.