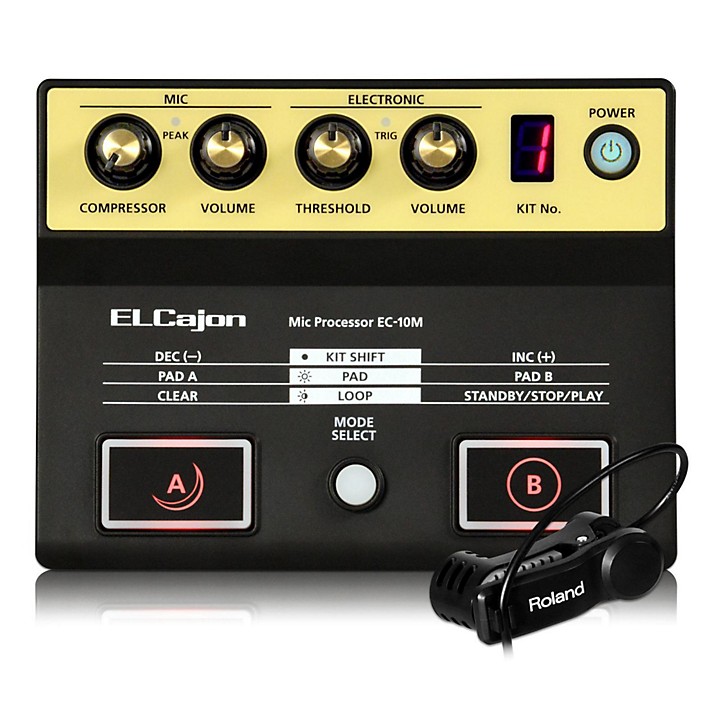 A unique and innovative creative tool for acoustic cajon players.
The EC-10M ELCajon Mic Processor is a creative tool designed for the acoustic cajon. Compact and battery powered, the EC-10M picks up the cajon's acoustic sound with the included clip-on condenser mic, which is also used to trigger a variety of onboard tones for layering with the acoustic voice.

You can then send both sounds to an amp or PA, giving you complete control over your stage sound. It's also possible to create percussion phrases with a built-in looper, and play additional sounds via integrated A/B footpads or optional kick trigger pedals and pads. Everywhere you play, the EC-10M transforms the acoustic cajon experience with a world of new expressive power.

With the EC-10M, it's easy to take your acoustic cajon performances to new heights. Just attach the dedicated clip-on mic to the instrument's sound hole, and then layer EC-10M tones with the acoustic voice to create unique hybrid sounds. The 16 kit variations include percussion sounds such as tambourine, surdo, splash cymbal, and many others, plus acoustic snare drum and the famous TR-808 snare. Built-in cajon tones with ambience are also included for reinforcing your acoustic cajon's natural voice with powerful studio sound.

Add Variety and Play With Authentic Cajon Techniques
The EC-10M intelligently senses when the mic is picking up sounds from the head and edge surfaces on the cajon, giving you the ability to trigger distinctly different electronic sounds with each of these areas. This lets you integrate EC-10M sounds using authentic cajon techniques, so you don't have to adjust your playing in any way.

Trigger Extra Sounds With Foot Pads or Optional Pedals
In each of the 16 kits within the EC-10M, two different sounds are assigned to the onboard A/B foot pads for triggering with toe taps while performing. If you'd prefer to play these sounds with authentic foot techniques and a more solid feel, up to two Roland kick trigger pedals (KT-10, KT-9, or KD-7) can be connected.*

Light, Compact, and Battery-Powered
You can use the compact EC-10M anywhere, since it weighs just 500 g/1.1 lbs. and runs on four AAA batteries. The included clip-on condenser mic is compact and convenient, eliminating the need to take up valuable stage space with a mic stand and large microphone. With its small footprint, the EC-10M is an easy fit in the tightest performing spaces.

Amplify Your Acoustic Cajon and EC-10M Layered Sounds
In addition to being a sound module for electronic sounds, the EC-10M also functions as a mic preamp for the clip-on mic, enabling you to amplify both the acoustic cajon and layered sounds through an amp or PA. You can send the sounds to two independent outputs, or mix them together to one. With the EC-10M, it's simple to achieve a powerful, consistent cajon sound at every gig, from intimate street performances to the biggest concert stages.

Record Percussion Phrases and Play Along
The EC-10M includes a built-in looper* for the electronic layered sounds. This lets you create instant percussive backing for acoustic cajon playing or jamming with another instrument. The looper is controlled using the A/B foot pads, and you can capture electronic sounds triggered from the cajon and external pedals/pads in your loops. And by changing the kits while the loop is playing, the tones in the loop are changed too. With this cool creative option, your acoustic cajon performances will be transformed forever.

Features
Easy setup—simply attach the included clip-on condenser mic to the sound hole of the acoustic cajon and start playing
Amplify the acoustic cajon—the EC-10M can be used as a mic preamp for the supplied microphone
A variety of sounds—16 onboard kits with tones including tambourine, shaker, djembe, electronic drums, and more can be layered with the acoustic cajon
Multiple tones—play two different electronic sounds by slapping the edge or head of the acoustic cajon
Add pedals and pads—up to two kick trigger pedals or pads can be connected to play additional sounds; integrated A/B foot pads can also trigger sounds
Create loops and play along—a simple looper function allows recording of rhythm phrases using the onboard sounds
Versatile outputs—send the microphone and layered sounds to a PA mixer via two independent outputs, or mix all sounds to one mono output
Two-way power—can be used with four AAA-size batteries