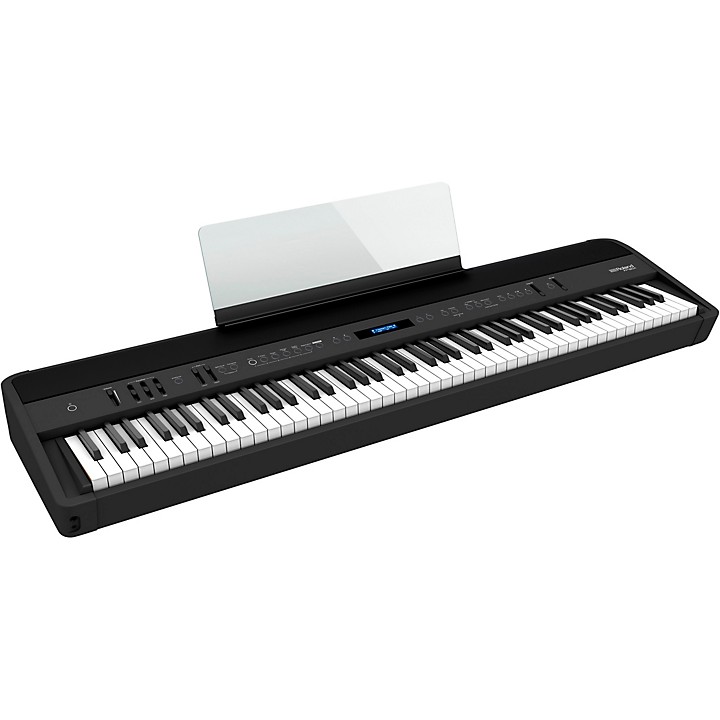 Play, practice, record and perform with this versatile keyboard.
For high-end piano performance in a portable instrument, there's no better choice than the Roland FP-90X. Like the rest of the FP-X series, it features a slim and stylish cabinet that's easy to transport. But when you invest in this range-topping model, you're getting an instrument that represents the pinnacle of Roland's acclaimed piano technology. From the addictively playable PHA-50 hybrid keyboard and PureAcoustic Piano Modeling from Roland's premium pianos, to custom tone shaping and deep sound immersion from the onboard speaker system, the FP-90X delivers the ultimate FP-X experience.

Roland's finest acoustic pianos, customizable for your touch
While all FP-X series pianos provide highly authentic tone, the FP-90X goes beyond. With astonishing accuracy, Roland's PureAcoustic Piano Modeling sound engine reproduces every aspect of how the rich, resonant sound of an acoustic grand piano is created. Choose from elegant Concert and dynamic Stage pianos via eight ready-to-play variations. Then dive deeper with the onboard Piano Designer, personalizing the sound like a piano technician through a range of easy-to-adjust parameters. And with My Stage and PureAcoustic Ambience, you can instantly immerse yourself in a variety of realistic environments, from studios to concert halls. The FP-90X's piano tones are almost infinite—and each is the best in its class.

Dive into immersive sound with the powerful four-speaker system
With a high-fidelity onboard sound system that projects your music from every angle, no other FP-X series piano can match the sonic depth and wide dynamic range of the FP-90X. A pair of powerful woofers and twin dome tweeters work in harmony with special vents in the cabinet's back, producing a deep sound field that fully envelops the playing position. In addition to home playing, this full-range system makes the FP-90X a powerful and flexible choice for intimate live performances. And just as important for private practice is the Headphones Acoustic Projection feature, giving you that same thrill of immersion with tone that seems to fill the room—even when nobody else can hear it.

All the feel of an acoustic grand, without the maintenance
The FP-90X's PHA-50 keyboard—also found in Roland's top-level home pianos—is an innovative hybrid that gives you the best of both worlds, combining the feel and texture of acoustic piano keys with unbeatable durability. The warm touch of the wood sides will be instantly familiar to seasoned players, while the composite center frame extends from the front of the keys to the back for a stable, assured touch. A crafted hammer action mechanism ensures authentic response, while the look and feel of ivory and ebony are reproduced in minute detail. It's just like playing a traditional acoustic grand—minus the regular maintenance.

Heavyweight features in a portable format
The FP-90X fuses its powerful features into a stylish format that works for modern musicians at home or on the move. With compact dimensions and surprisingly light weight for a hammer-action instrument, it shifts easily around your living space and stores easily in a closet or vehicle. You can supplement your FP-90X by adding a KSC-90 stand and KPD-90 three-pedal unit for a traditional upright experience, or with the portable KS-20X stand and RPU-3 pedal unit for gigging.

Specifications
Sound Generator
Piano Sound
Piano Sound: PureAcoustic Piano Modeling
Max. Polyphony
Piano:Limitless (Solo playing using No.1 to No.8 tones in piano category)
Other: 256
Tones
Piano: 20 tones
E.Piano: 18 tones
Organ: 18 tones
Strings/Pad: 27 tones
Synth/Other: 279 tones (including 8 drum sets, 1 SFX set)
Ambience
PureAcoustic Ambience
Type: Studio, Lounge, Concert Hall, Wooden Hall, Stone Hall, Cathedral
Depth: 11 types
My StageKeyboard
Keyboard
PHA-50 Keyboard: Wood and Plastic Hybrid Structure, with Escapement and Ebony/Ivory Feel (88 keys)
Speaker System
Speakers
Speakers: 8 x 12 cm (3-3/16 x 4-3/4 inches) x 2 (with speaker box)
Dome Tweeters: 2.5 cm (1 inches) x 2
Rated Power OutputHeadphones
Headphones Acoustic Projection
Bluetooth
Audio: Bluetooth Ver 3.0 (Supports SCMS-T content protection)
MIDI: Bluetooth Ver 4.0
Compatible Android / iOS Apps (Roland)
Piano Every Day
Piano Designer
Data Playback
-Playable Software
Standard MIDI Files (Format 0, 1)
Audio File (WAV: 44.1 kHz, 16-bit linear format, MP3: 44.1 kHz, 64 kbps - 320 kbps, requires USB flash drive)
Recorder
Recordable Software:
Standard MIDI Files (Format 0, 3 parts, Approx. 70,000 notes memory)
Audio File (WAV: 44.1 kHz, 16-bit linear format, requires USB flash drive)
Internal SongsTuning, Voicing
Touch Sensitivity:
Key Touch: 100 types, fixed touch
Hammer Response: 10 types
Master Tuning:
415.3--466.2 Hz (adjustable in increments of 0.1 Hz)
Temperament
10 types (Equal, Just Major, Just Minor, Pythagorean, Kirnberger I, Kirnberger II, Kirnberger III, Meantone, Werckmeister, Arabic), selectable temperament key
Effects
Ambience
Equalizer (3-band digital equalizer)
Only for organ tones:
Rotary Speaker Effect
Only for E.Piano tones:
Modulation Speed
Mic EffectsPiano Designer
Lid
Key Off Noise
Hammer Noise
Duplex Scale
Full Scale String Resonance
Key Off Resonance
Cabinet Resonance
Soundboard Type
Damper Noise
Soft Pedal Type
Single Note Tuning
Single Note Volume
Single Note Character
Display
Graphic LCD 132 x 32 dots
Control
Volume slider
Equalizer sliders (Low/Mid/High)
Part sliders (Lower/Upper)
Song Vol. slider
Mic Vol. slider
Speaker switch
Mic Gain knob
Connectors
DC In jack
Pedal (Damper/R, Sostenuto/C *1, Soft/L *1) jacks: TRS 1/4-inch phone type
Input Stereo jack: Stereo miniature phone type
Output (L/Mono, R) jacks: 1/4-inch phone type
Mic Input jack: 1/4-inch phone type
USB Computer port: USB B type
USB Memory port: USB A type
Phones jack x 2: Stereo miniature phone type, Stereo 1/4-inch phone type
MIDI (Out, In) connectors
*1: Assignable
Power SupplyPower Consumption
40W (When using the included AC adaptor)
*Approximate power consumption when playing the piano at medium volume: 14W
Power consumption when sound has not been played after power-on: 12W
Dimensions
Detached music rest:
1,340 (W) x 390 (D) x 136 (H) mm
52-13/16 (W) x 15-3/8 (D) x 5-3/8 (H) inches
FP-90X with KSC-90 and music rest:
1,340 (W) x 418 (D) x 932 (H) mm
52-13/16 (W) x 16-1/2 (D) x 36-3/4 (H) inches
Weight
23.6 kg, 52 lbs 1 oz (FP-90X with music rest)
37.8 kg, 83 lbs 6 oz (FP-90X with KSC-90, KPD-90, and music rest)





Features
Find your signature sound with distinctive acoustic piano tones and deep sound shaping using Piano Designer
PureAcoustic Piano Modeling sound engine for maximum expression, from pianissimo to fortissimo
PHA-50 hybrid keyboard combines acoustic-style wood keys with durable molded material
Explore a world of music styles with a vast selection of electric pianos and non-piano sounds
Onboard four-speaker audio system (2x25-watt main, 2x5-watt tweeters), specially engineered for rich, enveloping sound
Headphones Acoustic Projection provides a natural and immersive experience during quiet playing sessions
Dual headphones jacks for side-by-side playing and teacher/student interaction
Audio and MIDI connectivity via Bluetooth and USB
Mic input and vocal effects
Attractive design and black or white finishes to match your décor
Optional stands and three-pedal units available for an upright configuration (KSC-90, KPD-90) or portable use (KS-20X, RPU-3) (sold separately)
Convenient Functions
Metronome (adjustable Tempo/Beat/Down beat/Pattern/Volume/Tone)
Auto Tempo Transpose (Keyboard/Song: in semitones)
Registration (45 registrations, capable of pedal shift)
Registration Set Dual Split (split point adjustable)
Twin Piano Tone Demo Auto Off
Accessories (included)
Owner's Manual Leaflet "USING THE UNIT SAFELY"
AC adaptor Power cord Music rest Damper pedal (DP-10, capable of continuous detection)
Options (sold separately)
Dedicated stand: KSC-90
Dedicated pedal board: KPD-90
Keyboard stand: KS-G8B, KS-10Z, KS-12, KS-20X
Pedal unit: RPU-3
Damper pedal: DP series
Pedal switch: DP-2 (*1)
Expression pedal: EV-5
Carrying Bag: CB-88RL
Headphones *1 Cannot use for Damper/R.