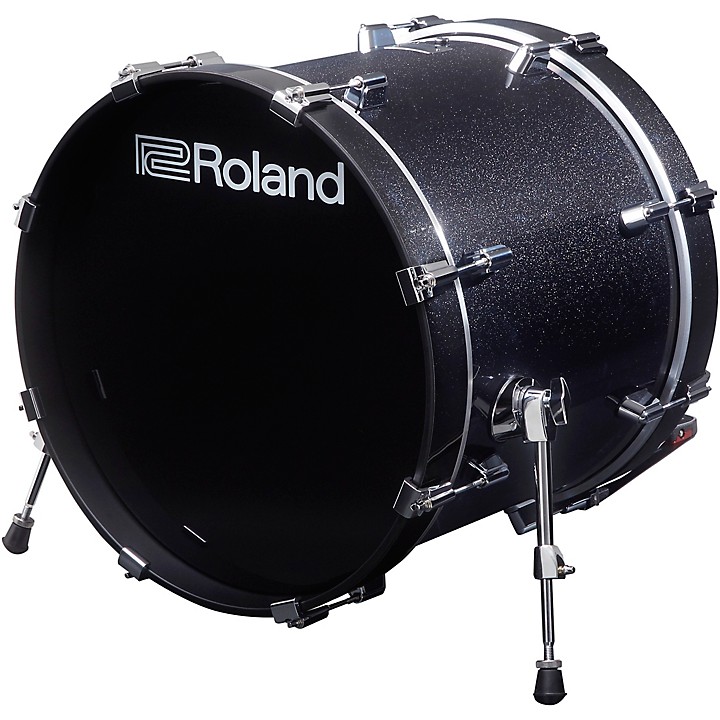 Full-size kick drum made from real wood and fitted with cutting-edge e-kit sensors
Roland V-Drums Acoustic Design expands the V-Drums experience by blending the distinctive aesthetic of acoustic drums with Roland's leading digital drum technology. Every component realizes the authentic crafted appearance of high-quality acoustic drums, with full-diameter wood shells, deluxe shell wraps, and heavy-duty chrome hardware designed by Roland.

One of the most innovative parts of Roland VAD kits is this KD-200-MSA kick drum pad, with a 20" full-depth wood shell for a completely immersive acoustic experience. It features an innovative pad sensor built into a head that mounts using the same method as an acoustic drum head. Every time the beater strikes, air pressure inside the shell is precisely vented for a pedal feel that's remarkably similar to an acoustic kick drum. And thanks to Roland's advanced triggering and sensor technology, every stroke is accurately detected for perfect digital sound reproduction.
Features
Premium 20x16" electronic kick pad with wood shell construction
Innovative kick sensor system fits to a drum head that moves air inside the shell for authentic acoustic feel
Shallow shell design provides no-compromise performance in a compact size
Telescopic spurs for sturdy playability and maximum adjustability
Midnight Sparkle wrap and custom chrome lugs, claws and spurs