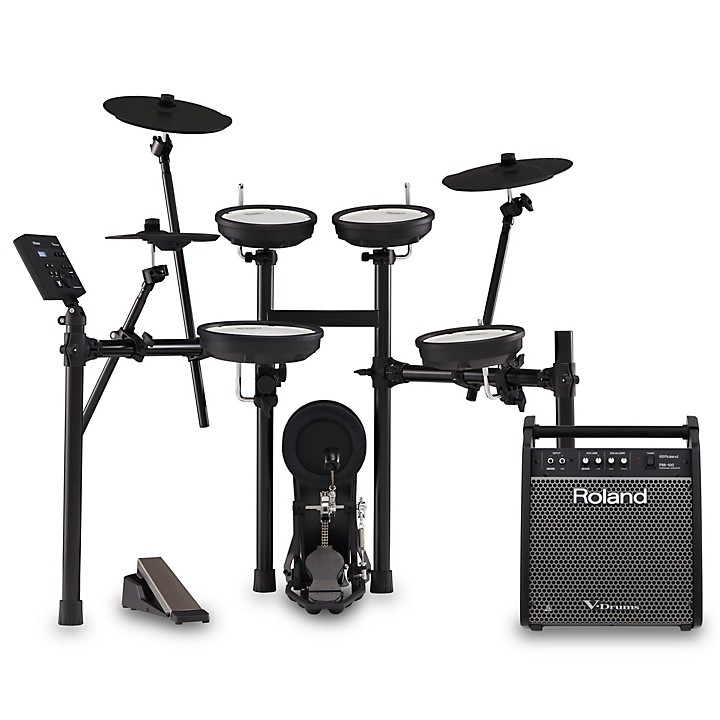 An advanced electronic drum kit and purpose-built monitor combine for a convenient bundle
This Roland TD-07KV e-kit bundle includes a full set of electronic drums and a dedicated PM-100 speaker. It's the perfect all-in-one solution for players who want to benefit from quiet practice through headphones, while also using their e-kit for live shows and jam sessions.

Roland TD-07KV V-Drums Electronic Drum Set
Roland V-Drums have a well-earned reputation for realism, expressiveness and authenticity in e-kits. The Roland TD-07KV electronic drum set fully embodies this legacy, bringing high-end technology to a new class of player. It's compact, capable and surprisingly affordable, making it appealing to serious students as well as gigging drummers who need to save space. Note: Bass drum pedal sold separately.

Authentic Sounds Recorded in Professional Studios
The heart of any great electronic drum set is a powerful, capable and speedy sound module—and the TD-07 meets these demands. At the player's command are acoustic drums and percussion captured in precise detail in pro studios, brought to life with advanced V-Drums technologies that make them behave just like their acoustic counterparts. There's a wide range of electronic percussion as well, plus the ability to personalize each and every sound to the drummer's liking.

Play Right Away—or Dive Deeper and Customize
The Roland TD-07 is filled with inspiring, ready-to-play preset kits for instant gratification right out of the box. And when players are ready for deeper exploration, a massive drum library awaits. Switch out one snare for another, mix up the toms, go large on the kick drum and swap heavy for light crashes and rides. Then tune the drums, add damping and change the ambient environment at will. For the finishing touch, use the module's individual EQs to shape the drums to perfection—just as a pro sound engineer would do. The Roland TD-07 module contains 25 slots to save these perfectly customized kits, so the player can keep a library of personalized setups for every situation.

Designed to Stay Quiet, No Matter What
One of the main advantages of choosing electronic drums for home playing is that they're much quieter than acoustic drums. But not all electronic kits are created equal. The amount of physical noise they generate can vary greatly. Backed by decades of R&D, the Roland TD-07KV is purpose-designed to be much quieter than other e-kits. Mesh heads minimize pad noise without compromising stick rebound, and special damping in the kick pad reduces noise and vibration while retaining a satisfying, natural feel. Even the stand components are designed to reduce vibration and noise transfer to the floor. Roland offers a range of optional solutions to further reduce noise if needed.

Acoustic Sound Players Can Feel in Their Hands
V-Drums produce a rich array of tone colors, providing an inspiring musical experience that feels like playing acoustic drums. There are no static sounds triggered by every hit. Rather, thanks to advanced precision sensors, the TD-07KV's drum and cymbal pads detect every tap, stoke, roll, flam and ghost note perfectly. Even cymbal chokes can be performed organically. This information is processed by the sound module on the fly, so that that exact correct tone is heard. Players aren't meant to notice any of this technology at work—but when they close their eyes and start drumming with the TD-07KV, it'll feel right.

The Real Deal—Roland Mesh Heads
In 1997, Roland introduced the world's first mesh drumhead to universal acclaim. Mesh has been the standard material for e-kits ever since. Born of years of development, their unique double-layer mesh design offers natural stick resistance and rebound that feels very close to playing an acoustic drumhead. Adjustable tension lets each drummer fine-tune the feel to their preference using a standard drum key. The TD-07KV comes supplied with authentic Roland mesh heads on the snare and all the tom pads as standard, making sure no drummers miss out on the most accurate feel available.

Strong and Stable Hardware Made From Metal
When drumming is in full swing, there's nothing more frustrating than a stand that feels unstable or a drum that starts to move away. Built with strong materials and quality components, the TD-07KV's hardware delivers rock-solid stability. The custom Roland drum rack provides a firm, steady foundation, while precision clamps tightly hold all components in place. Carrying on the rugged durability that V-Drums are famous for, the TD-07KV is ready to stand up to years of heavy playing, day after day.

Play Along With Music Over Bluetooth
Drumming with favorite tracks is one of the most fun and productive features of an electronic kit, and the TD-07KV makes it easy. Thanks to onboard Bluetooth, it's simple to call up tracks on a smartphone, tablet or computer and wirelessly hear the audio through the module right alongside the drums. Video sound is transmitted, too, perfect for playing along with online songs and lesson content. And for those who don't have a Bluetooth device, it's also possible to bring in stereo sound with a cable. MIDI transmission over Bluetooth is supported as well, allowing drummers to record MIDI data in music apps cable-free.

USB Connectivity for Recording Audio and MIDI
Another huge benefit of electronic drums is direct communication with music production software. The TD-07 module is an audio/MIDI recording interface in itself, with the ability to send stereo sound and multi-channel MIDI data to a Mac or Windows computer via a single USB cable. This lets drummers record discrete audio and MIDI drum tracks in any DAW. That includes free options like GarageBand, and professional suites like Logic and Pro Tools. MIDI also triggers sounds in software-based drum instruments for studio or live playing. The USB connection makes the sound possibilities of this kit effectively limitless.

Includes 40 Free Lessons From Melodics
Melodics is a desktop app that connects to V-Drums. By playing along to step-by-step lessons and tracks, students can learn new beats, build rhythm and timing, record grooves and discover areas of improvement with the playback feature. There's no limit to how many times students can play their 40 free lessons—they're free for life. When it's time for more, subscribe for unlimited lessons. Practice sessions no longer need to be routine—download Melodics, connect to the TD-07KV and make every minute behind the kit serious fun.


Roland PM-100 V-Drum Speaker System
Delivering rich, dynamic sound from a minimal footprint, the PM-100 is the ideal compact monitoring solution for Roland's V-Drums. Equipped with 80 watts of power, the PM-100 features a custom full-range speaker system and rugged cabinet specially optimized for reproducing the famously expressive V-Drums sound and response. And with onboard mixing capabilities, you're able to connect music players and other devices for practice and enjoyment while playing at home.

Pro-Level Sound for Playing V-Drums
The PM-100 is the perfect complement to any V-Drums set. Its compact size is ideal for playing at home, and the powerful custom speaker system delivers rich, full-range sound with inspiring punch and presence. The front face is angled for optimal sound monitoring while seated at the V-Drums, and a full-width bar handle on top offers a convenient way to carry the monitor and adjust its floor position.

Versatile Onboard Mixing
With its integrated mixer, the PM-100 allows you to monitor backing music and external devices along with your kit. There's a dedicated V-Drums input, plus 1/4-inch and 1/8-inch line inputs for connecting electronic percussion pads, smartphones, and music players. Independent volume controls are provided for the V-Drums and line input sections, and there's also a two-band equalizer for shaping the overall sound.
Specifications
Configuration
Tom pad(s): 3
Cymbal pad(s): 3
Snare pad: 1
Kickpad: Yes
Total pads: 8
Module
Display type: LCD
Drum kits: 25
Sounds: 143
Effects: Yes
Trigger inputs: Extra crash (sold separately)
Mix input: Yes
Headphone jack: Yes
USB: Yes
MIDI: Yes
Training functions: Yes
Click: Yes
Pads
Pad material: Mesh
Zones: Dual (snare and cymbals); Single (other)
Tom pad size: 6"
Snare pad size: 8"
Hardware
Rack material: Metal
Kick pedal: No
Throne: No
Features
Roland TD-07KV V-Drums
Electronic kit with TD-07 module featuring 25 preset kits and 143 instruments
Deep customization tools including V-Edit, EQ, ambience and 30 multi-effects
25 slots for saving customized user kits after editing
Snare and toms feature legendary Roland double-ply, tension-adjustable mesh drum heads
Configured with one PDX-8 8" snare pad with independent head and rim zones for assigning different sounds, plus three PDX-6A 6" single-zone tom pads
KD-10 kick pad offers realistic rebound and beater feel while minimizing noise and vibration (kick pedal sold separately)
Dual-zone CY-8 12" crash and ride cymbals with choke support
10" hi-hat cymbal and integrated foot pedal, with fine incremental control between open and closed positions
Four-post metal drum rack and sturdy clamps with strong grip
Bluetooth support can wirelessly stream sound from smartphones, tablets and other Bluetooth devices and send MIDI data to music apps
Advanced built-in metronome with adjustable time signature, note value and click tone
Onboard coach function provides interactive tools to build timing skills and track progress daily
USB for recording audio and MIDI data to computer music software
Support for kit expansion with a second crash cymbal (CY-8 V-Cymbal and MDY-Standard cymbal arm sold separately)
Note: Bass drum pedal sold separately
Roland PM-100 V-Drum Speaker System
Premium all-in-one monitor designed for use with V-Drums electronic percussion products
Full-range audio system with 80 watts of power, custom 10" speaker, and tweeter
Angled design provides ideal sound coverage for the seated player
Integrated mixer with independent volume controls and global EQ
Dedicated V-Drums input, plus 1/4" and 1/8" line inputs for connecting electronic percussion pads, smartphones, and music players
Unique full-width bar handle for easy floor adjustment and carrying convenience