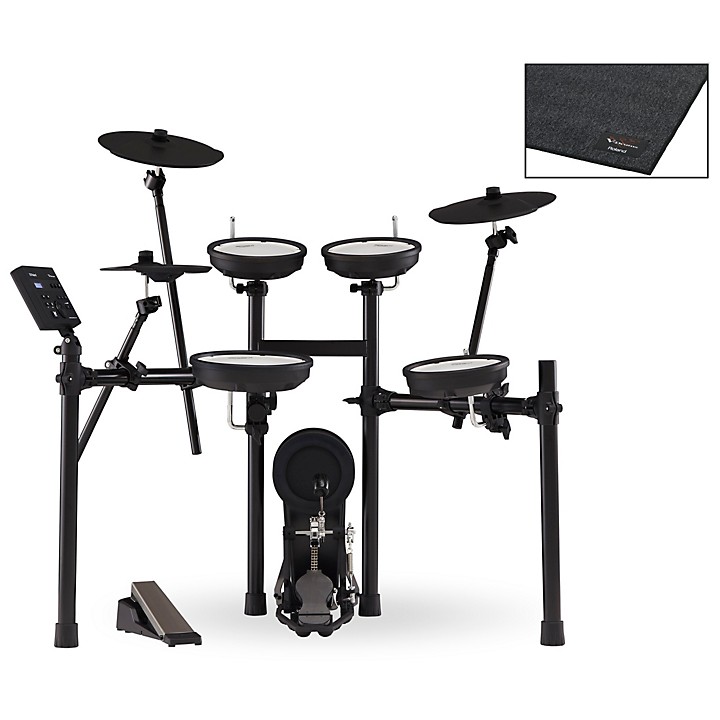 Highly capable electronic drum kit with included drum mat.
The Roland TD-07KV electronic drum set is compact, capable and surprisingly affordable, making it an appealing e-kit to serious students as well as gigging drummers who need to save space. It also comes with a TDM-10 drum mat. Prevent your drum components from slipping while simultaneously safeguarding your floor from scratches and reducing impact noise/vibration with the TDM-10 heavy-duty drum mat.

Authentic Sounds Recorded in Professional Studios
The heart of any great electronic drum set is a powerful, capable and speedy sound module—and the TD-07 meets these demands. At the player's command are acoustic drums and percussion captured in precise detail in pro studios, brought to life with advanced V-Drums technologies that make them behave just like their acoustic counterparts. There's a wide range of electronic percussion as well, plus the ability to personalize each and every sound to the drummer's liking.

Play Right Away—or Dive Deeper and Customize
The Roland TD-07 is filled with inspiring, ready-to-play preset kits for instant gratification right out of the box. And when players are ready for deeper exploration, a massive drum library awaits. Switch out one snare for another, mix up the toms, go large on the kick drum and swap heavy for light crashes and rides. Then tune the drums, add damping and change the ambient environment at will. For the finishing touch, use the module's individual EQs to shape the drums to perfection—just as a pro sound engineer would do. The Roland TD-07 module contains 25 slots to save these perfectly customized kits, so the player can keep a library of personalized setups for every situation.

Designed to Stay Quiet, No Matter What
One of the main advantages of choosing electronic drums for home playing is that they're much quieter than acoustic drums. But not all electronic kits are created equal. The amount of physical noise they generate can vary greatly. Backed by decades of R&D, the Roland TD-07KV is purpose-designed to be much quieter than other e-kits. Mesh heads minimize pad noise without compromising stick rebound, and special damping in the kick pad reduces noise and vibration while retaining a satisfying, natural feel. Even the stand components are designed to reduce vibration and noise transfer to the floor. Roland offers a range of optional solutions to further reduce noise if needed.

Acoustic Sound Players Can Feel in Their Hands
V-Drums produce a rich array of tone colors, providing an inspiring musical experience that feels like playing acoustic drums. There are no static sounds triggered by every hit. Rather, thanks to advanced precision sensors, the TD-07KV's drum and cymbal pads detect every tap, stoke, roll, flam and ghost note perfectly. Even cymbal chokes can be performed organically. This information is processed by the sound module on the fly, so that that exact correct tone is heard. Players aren't meant to notice any of this technology at work—but when they close their eyes and start drumming with the TD-07KV, it'll feel right.
Features
Electronic kit with TD-07 module featuring 25 preset kits and 143 instruments
Deep customization tools including V-Edit, EQ, ambience and 30 multi-effects
25 slots for saving customized user kits after editing
Snare and toms feature legendary Roland double-ply, tension-adjustable mesh drum heads
Configured with one PDX-8 8" snare pad with independent head and rim zones for assigning different sounds, plus three PDX-6A 6" single-zone tom pads
KD-10 kick pad offers realistic rebound and beater feel while minimizing noise and vibration (bass drum pedal sold separately)
Dual-zone CY-8 12" crash and ride cymbals with choke support
10" hi-hat cymbal and integrated foot pedal, with fine incremental control between open and closed positions
Four-post metal drum rack and sturdy clamps with strong grip
Bluetooth support can wirelessly stream sound from smartphones, tablets and other Bluetooth devices and send MIDI data to music apps