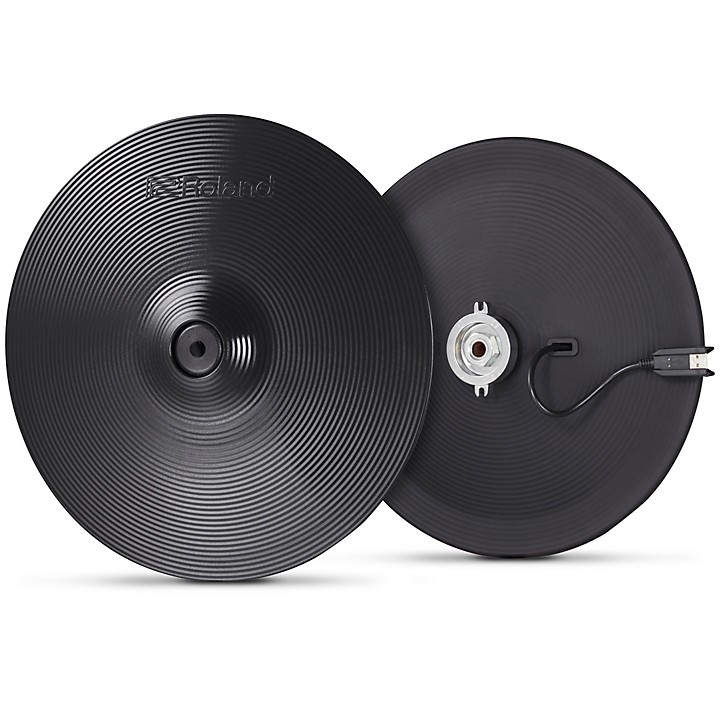 More playability and versatility in this innovative digital hi-hat.
Roland's digital pads elevate electronic drumming to the next level, working in harmony with high-speed processing in supported V-Drums sound modules to provide the ultimate expressive experience. Capturing the most subtle playing nuances with astonishing detail and definition, these digital pads bring electronic drums to life.

The groundbreaking VH-14D launches the electronic hi-hat into a new universe of playability, offering touch sensitivity, tonal variation and open/closed resolution not available until now. The two-piece design and thin 14" pads provide a familiar look and natural feel, while the high-resolution, multi-sensor system tracks velocity, stick position and footwork with maximum precision. Foot splashes are reproduced authentically, and you can even mute the cymbals with a hand touch—just like acoustic hi-hats.

The VH-14D is the perfect complement to the PD-140S digital snare and CY-18DR digital ride, bringing Roland's powerful digital advantages to the three most nuanced pieces in your kit.

For the most expressive VH-14D experience, you'll want to use it with the flagship TD-50X sound module or a TD-50 module with the TD-50X upgrade installed. These modules include new sounds that are fully optimized for the VH-14D. Standard TD-50 and TD-27 modules are also compatible with the VH-14D via a free system update. This provides support for the VH-14D's enhanced detection capabilities, but no new sounds are included.
Specifications
Size Power supply
Supplied from DIGITAL TRIGGER IN port (DC 5V)
Current draw Dimensions (WxDxH)
356 x 356 x 160 mm, 14-1/16" x 14-1/16" x 6-5/16"
Weight
Features
High-resolution sound triggering designed for use with the TD-50X and compatible Roland sound modules with digital trigger inputs
Top and bottom 14" pads with thin profiles for authentic feel and playability
Precision tracking of velocity, stick position and foot pedal work
Wide-range touch sensors allow you to mute the cymbals with your hand
Mounts to a regular acoustic hi-hat stand
Available playing methods (triggers)
Open/Half-open/Close/Press (high resolution position detection)
Bow shot (high resolution position detection, wide dynamic range)
Edge shot (high resolution position detection, wide dynamic range)
Foot close/splash
Choke (choke edge, bow touch) Sensor system
Multi element sensor system
Bow sensor x 3
Edge sensor
Motion sensor
Touch sensor
Built-in sensing processor
Connectors
DIGITAL TRIGGER OUT port
(compatible with Roland drum sound module equipped with DIGITAL TRIGGER IN port)
Accessories
Owner's manual
Clamp
Spacer (3 types)
Connection cable
Cable tie
Drum key
Options (sold separately)