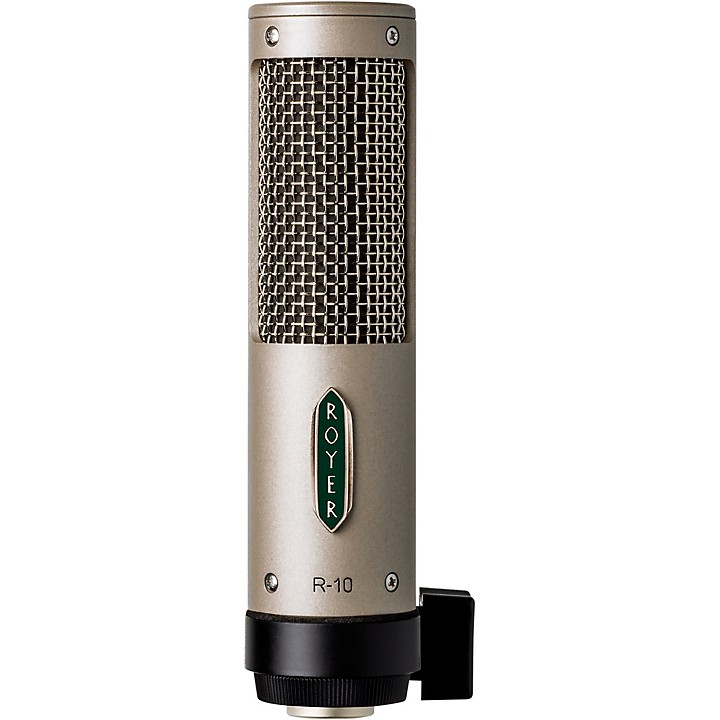 A solid ribbon mic at a welcome price.
The Royer R-10 is a compact, passive mono ribbon microphone created for studio recording and live performance.

The R-10 has a 2.5-micron ribbon element (the same as in the Royer R-121) and a David Royer custom designed transformer for high overload threshold. Its ribbon transducer is wired for humbucking to reject electromagnetically induced noise. The R-10 incorporates a proven 3-layer protective windscreen system and internally shock-mounted ribbon transducer.

The R-10 is warm, full-bodied and extremely natural sounding. It is an excellent choice for capturing a full frequency range of any instrument.
Specifications
Audio
Element: Ribbon
Frequency response: 30 Hz - 15 kHz
Max SPL: 135 dB
Connector: XLR
Pattern and Type
Capsule: Ribbon
Polar pattern: Figure-8
Type: Mounted
Phantom power required: No
Size and Weight
Diameter: 35mm. / 1.4 in.
Length: 149 mm. / 5.8 in.
Weight: 13 oz. / 0.8 lbs.
Included Accessories
Case: Protective Case
Clip: Yes
Shockmount: Yes
Pop filter No
Power supply: No
Cable: No
Stand: No
Features
Excellent studio and live mic
High SPL handling
Dave Royer custom designed transformer
2.5-micron R-series ribbon element
3-layer windscreen system
Acclaimed Royer ribbon sound
Hand-built in Burbank California