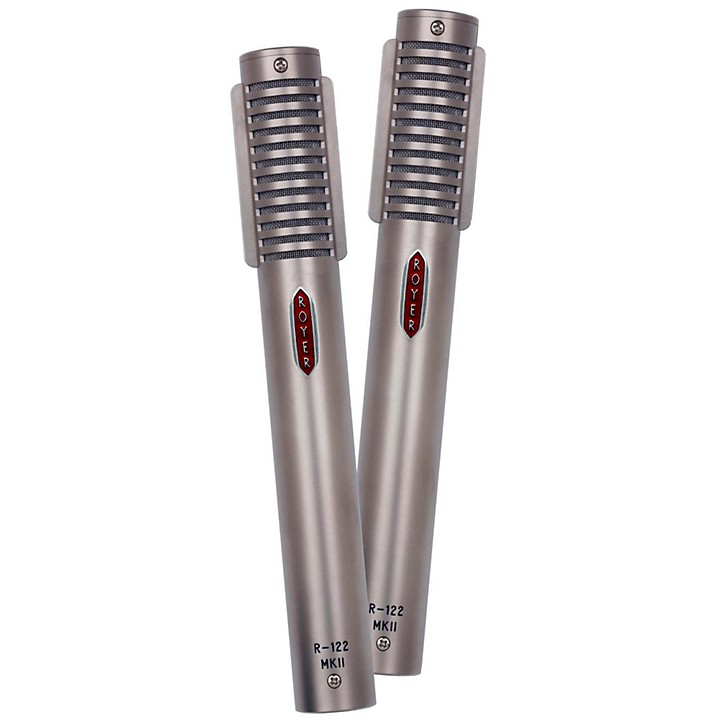 A stereo pair of Royer R-122 MKII ribbon mics made for the road.
The R-122 Live is a road-optimized version of Royer's phantom powered R-122 MKII ribbon microphone. The R-122 MKII Live's output is on par with phantom powered condenser mics, allowing long cable runs with minimal signal loss or RF pickup, and it produces the warm, natural sounds that only ribbon mics can deliver. Royer Live Series mics utilize thicker ribbon elements - carefully chosen for increased durability and minimal sonic variation from their studio brethren. The thicker ribbons have a slightly slower transient response, resulting in softer highs.

Live Series mics are identified by their red logos (studio models have green logos). Live models can be converted to Studio models any time - we simply re-ribbon the mic to studio spec and replace the red logo with a green logo. Like any high-end microphone, Royer Live Series mics need to be handled carefully during set-up and break-down. Proper handling and storage in a dedicated microphone container will assure years of reliable service.


Features
Phantom powered circuitry provides high output and impedance matching
-15 dB pad before the mic' electronics gives more headroom when activated.
Bass cut filter reduces proximity effect and bass below 100 Hz when activated
High SPL Capabilities
No distortion up to maximum SPL rating
Extremely low residual noise
Ribbon element is not affected by heat or humidity
Absence of high frequency phase distortion
Equal sensitivity from front or back of element
Consistent frequency response regardless of distance
Rear side of mic records slightly brighter when three feet or closer to sound source