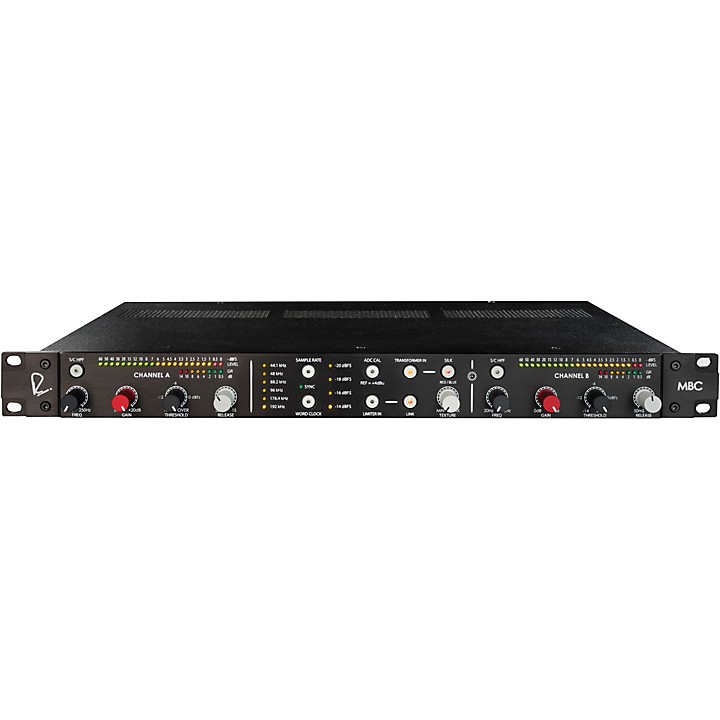 Create digital signals with superior tone, transparency, and power.
The ultimate tool for creating digital signals with the tone, transparency, and power expected from Rupert Neve Designs.
Whether you're tracking, printing mixes or mastering, the Master Buss Converter is a revelation in quality and functionality of A-D conversion technology. The analog drive circuitry allows the MBC's converter to be fed by either a class-A transformerless path for maximum transparency, or by custom interstage audio transformers with variable Silk for a wide variety of tonal enhancements. Coupled with an astonishingly musical limiter, the MBC is always the best choice to capture your analog signals with breathtakingly three-dimensional accuracy.
Specifications
Noise @ +20 dB Make-Up Gain (10 Hz – 22 kHz BW): -97 dBFS typical
WEIGHTS & DIMENSIONS
Product Dimensions (W x D x H): 19" (48.3 cm) x 9" (22.9 cm) x 1.65" (4.2 cm)
Shipping Dimensions (L x W x H): 24" (61 cm) x 13" (33 cm) x 4" (10.2 cm)
Shipping Weight: 10 lbs. (4.5 kg)
Features
Selectable Analog Drive Paths
The very best of class-A transformerless and custom transformer-coupled designs at the touch of a button.
Transformer Path with Silk / Texture
Add weight and punch with a dedicated custom inter-stage transformer before the converter. Silk / Texture allows you to dial in the harmonic content and drive saturation of this signal path.
Class-A Transformerless Path
Maximizes clarity and transparency of the input signal.
Active Compound Release Analog Limiting
Push your levels further with fewer artifacts than plug-ins, and introduce clip safety for tracking or broadcast.
Side Chain HPF
Tighten the response of your limiting with a 12dB / Octave SC HPF sweepable from 20Hz to 250Hz
24-bit/192kHz Reference Conversion
Unparalleled analog capture with precision clocking using top-of-the-line chips.
Multi-Standard Connectivity
Connect to any of your digital devices with AES, S/PDIF and TOSLINK all simultaneously available.
Precision Clocking
Maximum accuracy with minimal jitter and phase noise, able to operate as a master clock or sync from another master.