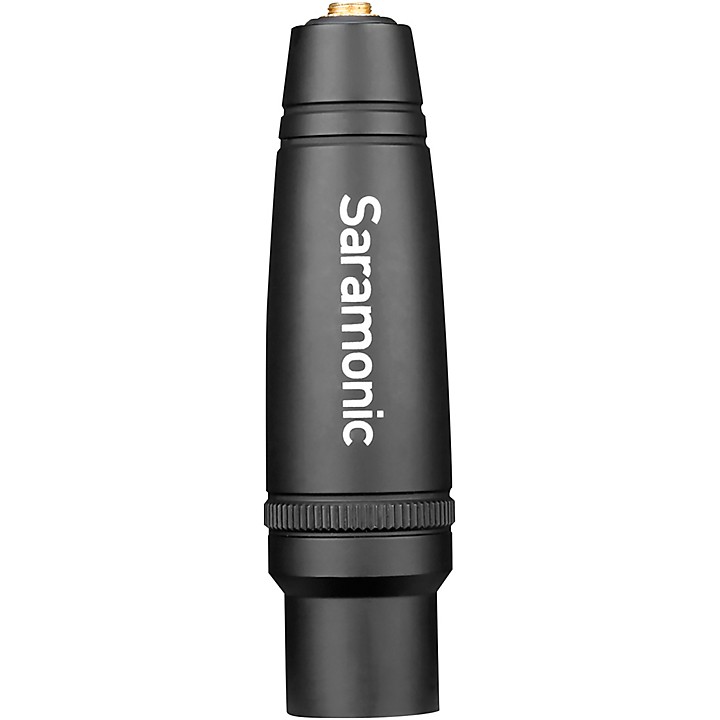 Audio adapter for 3.5mm male jacks.
The Saramonic C-XLR+ is a useful audio adapter that lets you easily connect microphones and audio sources that have 3.5mm male jacks into the XLR inputs on professional video and cinema cameras, audio recorders, mixers and more. It's compatible with active, battery-powered microphones and passive microphones, such as the lavalier mics that come with wireless systems. If you engage phantom power on the camera or other device, a built-in converter in the C-XLR+ changes the current from +48-volts to the 3 to 5-volt current that plug-in-powered and some passive 3.5mm microphones require. This happens automatically. There are no controls on the C-XLR+ that need your attention. Whether you need to connect a 3.5mm lavalier mic directly to a pro video camera, plug a headset microphone into a sound system, use a plug-in-powered mini-plug shotgun microphone with a field mixer, connect a wireless receiver like the Saramonic Blink 500 (B1/B2) into a cinema camera, or connect a 3.5mm line signal to an PA mixer, the C-XLR+ will make it happen. It is an invaluable problem solver to have in your audio kit and can even expand the use of your 3.5mm plug-in-powered or lavalier microphones into your professional devices.
Specifications
Adapter type: 1/8" TRS female to XLR male
Input compatibility: Standard and locking 3.5mm connectors
Power conversion: 12 - 48V phantom power to 3 - 5-volt plug-in power
Dimensions: 0.9" x 3.4"
Weight: 3.5 oz.