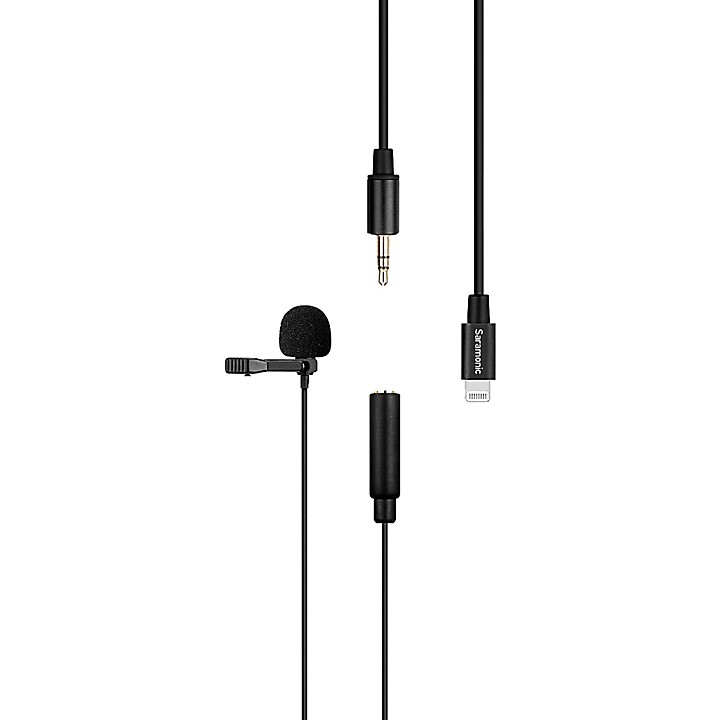 Ultracompact clip-on lavalier mic for capturing rich, broadcast-quality sound.
The Saramonic LavMicro U1A is an ultracompact clip-on lavalier microphone with a Lightning connector that plugs directly into the Apple iPhone or iPad and captures rich, broadcast-quality sound for your videos, audio recordings and podcasts. A built-in 6.6 foot cable provides an ideal amount of length for popular audio and video applications techniques like handheld vlogging, personal interviews, incognito audio capture and numerous other applications where too much cable would get in the way. A reusable cable strap is provided to keep the cable tidy when in storage or when you don't need as much length.

The microphone on the LavMicro U1A features an omnidirectional pickup pattern, which captures sound evenly in every direction. This means you don't need to worry about the direction the mic is pointing in when you clip it to your clothing. It also makes it sound more natural when you turn your head while speaking. The connectors are gold-plated, which provide the best possible signal transfer and resist corrosion. An included storage pouch with a locking drawstring holds everything neatly and a foam windscreen diffuses unwanted wind noise. The included LavMicro U1 (SR-C2000) Lightning adapter is also detachable and has a male 3.5mm plug on the other end. When not being used by the LavMicro U1A, this adapter can be used to attach other audio sources to your Apple iOS device, such as other 3.5mm microphones, the output of mixers or wireless receivers.
Specifications
Output: MFi
Certified Lightning Connector Sensitivity: -40+/-3dB (0dB=1V/Pa, at 1KHz)
Polar Pattern: Omnidirectional
Signal-to-Noise Ratio: 65dB SPL
Frequency Response: 50Hz-20kHz
Power Requirement: Supplied by iOS Device
Connector: Available on All Devices with Lightning Ports that Support iOS 10 or Later
Lavalier Cable Length: 6.56'
Features
Built-in 6.6 ft. cable provides an ideal amount of length for popular audio and video applications techniques
Omnidirectional pickup pattern captures sound equally in every direction providing natural sounding audio
Included detachable Lightning adapter with male 3.5mm plug can also connect other audio sources to your Apple iOS device
Includes:
Alligator-style mic clip that securely affixes to collars and other clothing
Foam windscreen to diffuse wind noise
Reusable cable strap
Locking drawstring pouch