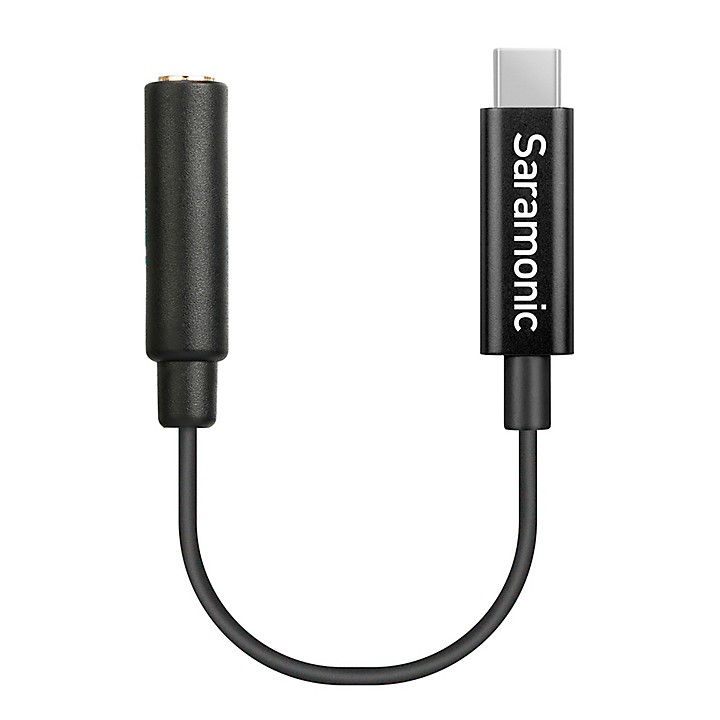 Compact adapter cable for the DJI Osmo Action.
The Saramonic SR-C2007 is a compact adapter cable with a female 3.5mm TRS connector to male USB-C connector specifically designed for the DJI Osmo Action and allowing users to connect external microphones and audio sources to the DJI Osmo Action. Want to connect a mini shotgun microphone? Need to connect a wireless microphone receiver? Want to record the audio from a mixer? The SR-C2007 can handle all that and so much more. Plus, it provides plug-in power to your microphones which is vital for many popular on-camera video and lavalier microphones. Designed specifically for the Osmo Action's USB-C audio protocol, the SR-C2007 has plug-and-play operation and it is even hot-swappable. The SR-C2007's flexible 2.4" cable allows a multitude of easier and more flexible microphone mounting and connecting options. It is an ideal problem-solving audio adapter accessory for DJI Osmo Action at a much more affordable than the DJI branded and other compatible audio adapters, without sacrificing audio quality.
Specifications
Digital connector: Male USB Type-C
Analog connector: Gold-Plated 1/8" TRS Female
Cable length: 2.4"
Weight: 0.2 oz.