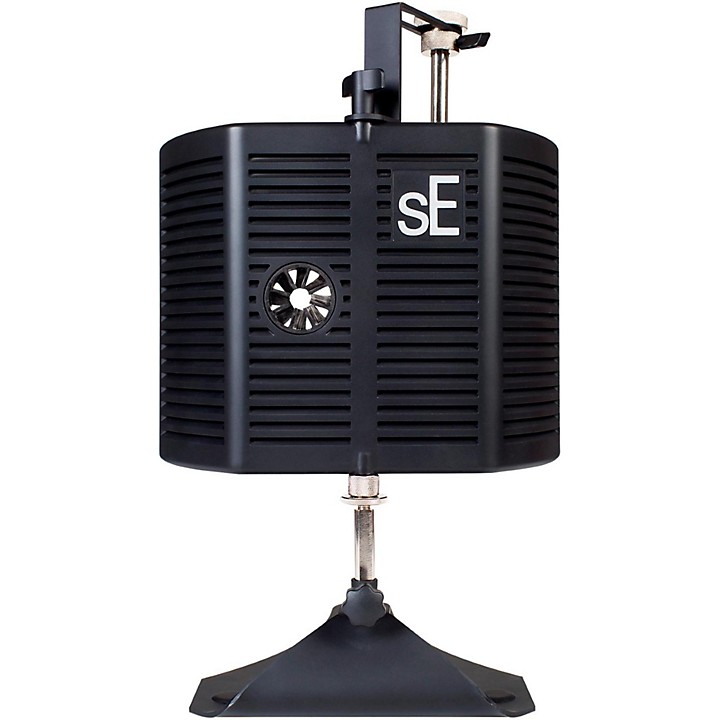 Act's as an RF (Reflexion Filter), an isolator and a double mic stand all in one.
For years now, some of the biggest FOH engineers have known that using the sE Reflexion Filter in front of their amp cabinets to help reduce stage bleed into their guitar mics. This is especially true with a lot of ribbon mics that are commonly used on amps, since they naturally have a figure-8 pattern that leaves them open to whatever else is happening on stage. Well now sE has an even better solution, the guitaRF Acoustic Shield.

The guitaRF is very similar to sE's best-selling RF-X Reflexion Filter, with a four-layer acoustic filter design comprised of the outer composite panel, a layer of acoustic-grade wool, an air gap to help with low-frequency isolation, and an inner acoustic foam layer. The guitaRF also has an integrated pass-through hole with a rubber-finned grip that securely holds just about any dynamic or small-capsule mic on the market. A double-cable clip is also provided that screws in to the back of the filter, so you don't need to worry about dangling mic cables that could accidentally tug your mics out of position.

And guitar amps are not the only application for the guitaRF. Try using it on keyboard amps, kick drums, hi-hat or snare isolation, vocal double miking, acoustic guitars and a whole lot more.