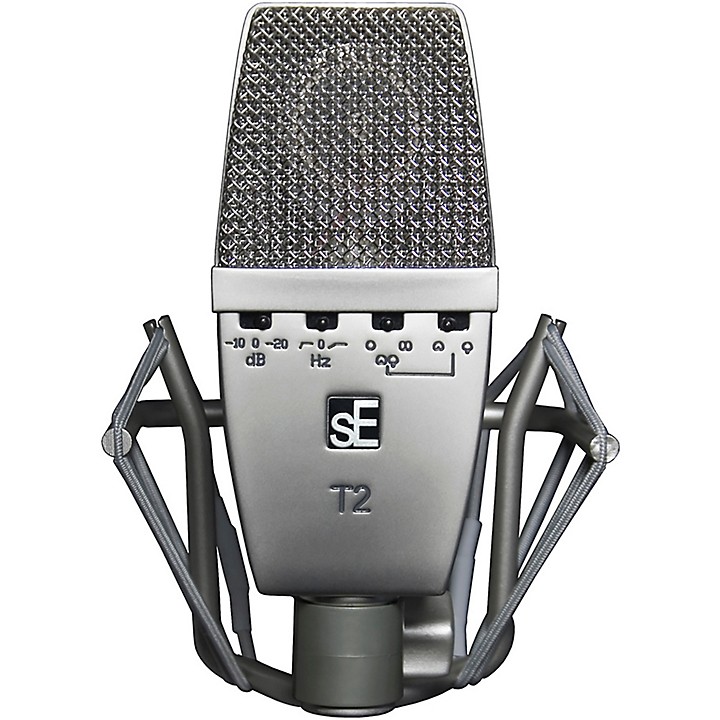 The ultimate combination of solid state performance and versatility.
Based on the chassis and feature spec of the acclaimed 4400a, but with the highly specialized capsule of the original sE Titan, the sE T2 delivers full and perfectly balanced mid and low frequencies, while its titanium capsule produces un-hyped but ultra-detailed HF response.
It is thus ideally suited for any percussive sounds - including kick & toms, the attack of a guitar or bass, hammer action of a piano, and hip-hop vocals.


Titanium Diaphragm
The T2 features a hand-crafted titanium-sputtered capsule. This is much stiffer than gold-sputtered capsules, meaning quicker transient response, which is important when recording instruments that create fast transients and attack - like drums and percussion - as it enables the microphone to maintain clarity and deliver exceptionally accurate performances.

The stiffness of this special diaphragm also allows it to withstand extremely high sound pressure levels, so it can handle the loudest percussion with ease.


Custom Shockmount
The T2 shares the shockmount of the 4400a. The flat, round-edged chassis design and custom suspension mount allow the mic to be centered within the shock, flipped around and used flat against a drum head or guitar cab, or angled outwards and pushed through inside of a kick drum. And at less than 3/4" thick, it fits neatly in the palm of your hand, but is built to take a beating on the road.

Specifications
Capsule Type: Hand-Crafted True Condenser
Diaphragm: 32mm Twin Titanium/Mylar
Directional Pattern: Cardioid, Hyper Cardioid, Omni, Figure-8
Frequency range: 20 Hz - 20 kHz
Impedance: 50 Ohms
Sensitivity: 25.12 mV/Pa (-32 dB)
Max SPL: 122/132/142 dB (0/-10/-20 dB pad) (0.5% THD @ 1kHz)
Signal to Noise Ratio: 78 dB
Self Noise: 16 dB(A)
Pass Filter Switch: 60/120 Hz
Preattenuation Pad: -10/-20 dB
Matching Connectors: XLR3F
Power requirement: 48V phantom
Weight: 280g / 9.88oz