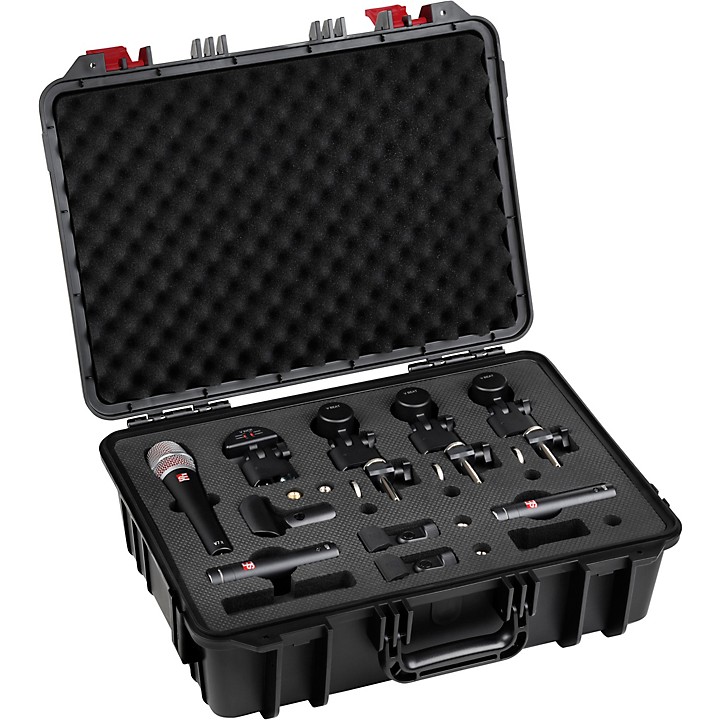 sE's top-of-the-line drum pack.
The V PACK ARENA consists of one V KICK for your bass drum, three V BEATs and V CLAMPS for your toms, one V7 X for your snare, and a pair of sE8 condensers for your overheads. All mics and accessories come securely packaged inside a robust plastic flight case, with an empty space included to accommodate your favorite hi-hat mic.

V KICK
The V KICK is the most compact and versatile drum microphone in its class, intended for use with kick (bass) drums or other large drums where low-frequency energy is of the utmost importance. Its integrated swivel joint allows for any required mic placement, and its specialized capsule provides a sound character tailored specifically for kick drums, which can be further shaped with the use of two switches on the rear side of the microphone. From warm and classic to modern and aggressive, the V KICK gives you any kick drum sound you need.

V BEAT
The V BEAT is the most compact drum microphone in its class, intended for use with snare or tom drums. Its specialized capsule provides a highly detailed, extremely natural sound character on snares or toms of any size, with amazing off-axis rejection to minimize bleed from nearby drums and cymbals. Its ultra-compact design and parallel XLR connector & stand mount give it the smallest footprint in its class, and its rock-solid swivel mount allows its angle to be adjusted with great precision – so it can be aimed at almost any part of the drum head to achieve whatever sound character is required.

V CLAMP
The V CLAMP is the fastest, most compact and most practical drum mic mounting system on the market, and is compatible with any popular snare or tom drum. It was designed as the perfect companion to sE's V BEAT for snare or tom miking purposes, but it is also compatible with many other popular microphones. Its sturdy elastic clamp enables setup and tear-down within seconds, and its robust, bulletproof design is built for use on the road. The height and rotation of the connected microphone can be easily changed by loosening the V CLAMP's knob and adjusting the position of the rod, allowing perfect positioning for any desired drum tone, or to minimize spill from nearby drums.

V7 X
The sibling to the acclaimed vocal-oriented V7, the V7 X is a dynamic instrument microphone intended for a broad range of studio or stage instrumental applications, and ideal for snare drum miking. Its specialized capsule's innovative aluminum voice coil and brand new acoustic design are specifically tailored for pristine full-bandwidth instrumental reinforcement & recording, with a perfectly natural balance of detailed highs and incredibly deep, clear lows. In addition to snare drums, the V7 X is a great option for electric guitar cabinets, brass instruments, vocals, choir, and more.

sE8 Stereo Pair
The sE8 is a high-performance small-diaphragm condenser from the labs at sE Electronics, and a perfect solution for drum overhead miking. A sophisticated new capsule backplate design provides a perfectly balanced sound that's never harsh, no matter how much EQ or filtering is applied later - and with the highest dynamic range and SPL handling in its class, along with attenuation pads and low-cut filters for superb flexibility, the sE8 is ready for any sounds you're making, whether in the studio OR on stage. This stereo pair has been factory-matched for best possible performance and stereo imaging.

Specifications
V KICK
2.36 x 5.31 in. (Ø x H)
Net weight 468.4 g / 16.52 oz.
Knurled nut LP mic claw for V KICK
0.95 x 0.16 in. ( Ø x H)
Net weight: 8 g / 0.28 oz
V BEAT
2.4 x 4.33 in. ( Ø x H)
Net weight 347.1 g / 12.24 oz.
Knurled nut LP mic claw for V BEAT
0.95 x 0.16 in. ( Ø x H)
Net weight: 8 g / 0.28 oz
V CLAMP
2.26 x 2.96 in. ( Ø x H)
Net weight 92.5 g / 3.26 oz.
V7 X
1.86 x 6.93 in. ( Ø x H)
Net weight : 269 g / 9.49 oz.
Mic clip for V7 X
2.44 x 1.26x 3.15in. ( Lx W x H )
Net weight : 30g / 1.06 oz
sE8(P)
0.91 x 4.72 in. ( Ø x H)
Net weight : 280 g / 9.88 oz.
Mic clips for sE8(P)
1.02 x2.83 in. ( Ø x H)
Net weight : 27.7 g / 0.98 oz.
Features
1 V KICK
3 V BEAT
3 V CLAMP
V7 X
Mic clip for V7 X
sE8 Stereo Pair
2 mic clips for sE8
Plastic case
sE Logo sticker
3 Knurled nut for LP Mic Claw