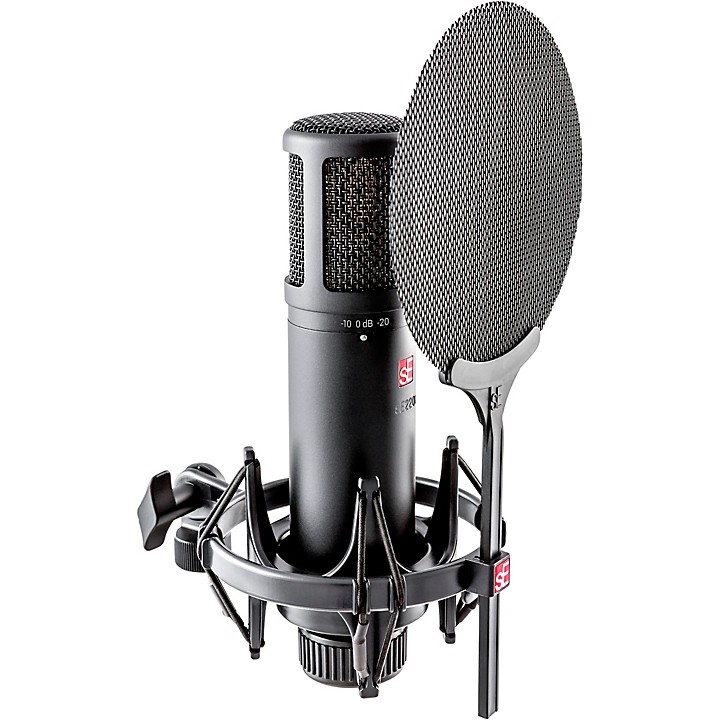 Studio mic with shockmount and pop filter.
The sE2200 is the latest version of the award-winning cardioid condenser microphone that put sE Electronics on the map. It offers a smooth, polished sound for vocals, voiceovers and numerous instrumental applications. It revives the spirit of classic studio microphones, and remains a standard in mic lockers around the world.

sE remains true to the original capsule design, custom-built transformer and Class-A circuit topologies, so it's still the same mic loved by a whole generation of engineers. State-of-the-art components and a shorter, optimized signal path provide even better noise performance and clarity, new pad and filter options increase its versatility, and the fit and finish has been updated with sE's latest manufacturing techniques.

Like the earlier models, the sE2200 is a high-quality condenser microphone intended for a wide range of studio applications, from vocals and spoken word to acoustic instruments to drums and beyond. Thanks to its handcrafted large-diaphragm true condenser capsule, shielded custom transformer and class-A circuitry, it delivers pristine, flattering sound quality, exceptionally low noise and an even, well-balanced frequency response.

Although the sE2200 is a cardioid-only microphone, two gold-sputtered diaphragms are used to ensure best possible acoustic performance. Built like the world's finest musical instruments, every capsule is handcrafted and individually tuned in sE Electronics' very own factory in Shanghai. The sE2200 features a true externally polarized condenser capsule, and delivers the best possible performance in every aspect.

Its carefully selected, discrete components ensure brilliant sound quality on any source. The sE2200's design still avoids using any ICs (integrated circuits). Low noise, consistent performance and high sensitivity is provided by state-of-the-art surface-mounted electronic components with extremely tight tolerances. Reviving the spirit of classic studio microphones, the sE2200's transformer provides superb depth and weight to the overall sonic image, and the massively shielded metal housing ensures noise-free operation.

The electronics and two switchable attenuation pads provide a high dynamic range, with high sound pressure level (SPL) handling capability and exceptionally low-noise components. Two switchable low-cut filters eliminate rumble or footfall noise, and compensate for an excess of bass frequencies caused by proximity effect. This enables the sE2200 to close-mic even the loudest instruments, including electric guitar speaker cabinets, brass instruments and drums. Reliable operation even in demanding applications in difficult environments is ensured by the roadworthy all-metal design, robust construction and high-quality manufacturing standards.

The sE2200 also comes complete with sE's Isolation Pack, consisting of a custom-made shockmount, integrated metal pop filter and a thread adapter to fit with any mic stand.

Specifications
Audio
Element: Moving coil
Frequency response: 20Hz–20kHz
Max SPL: 135dB (145dB with switch)
Connector: Gold-plated XLR
Pattern and Type
Capsule: Condenser
Polar pattern: Cardioid
Type: Mounted
Phantom power required: YesSize and WeightWeight: 21.5 oz.Included Accessories
Case: Pouch
Clip: Yes
Shockmount: Yes
Pop filter: Yes
Power supply: No
Cable: No
Stand: No
Features
Handcrafted 1" true condenser capsule
Traditional Class-A electronic design
Two switchable attenuation levels
Custom-built output transformer
All-metal housing and premium finish
Gold-plated XLR connector