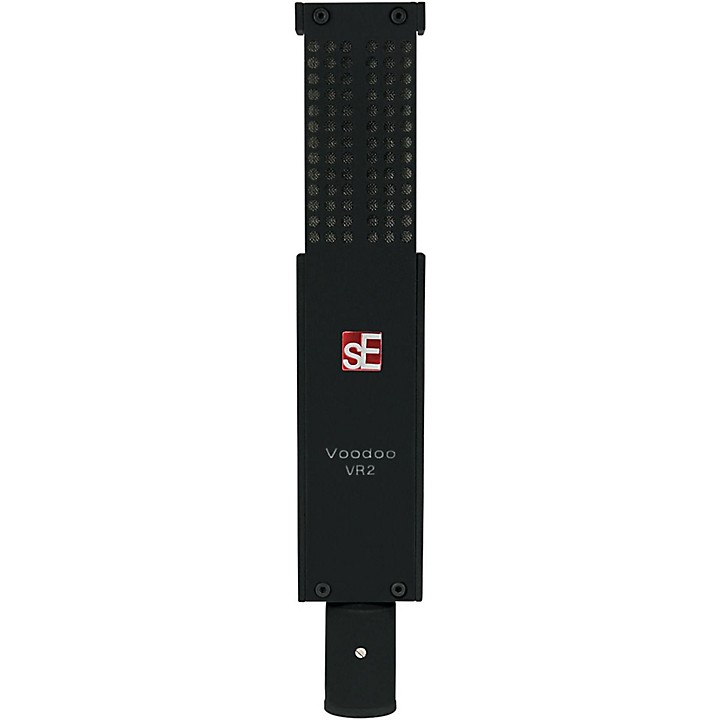 A full-frequency ribbon mic that's easy to use.
The VR2 Voodoo ribbon microphones from sE mark a new era for ribbon mic technology. It is designed for vocals, wind instruments and acoustic string instruments.

Until the Voodoo Series, the only ribbon mic in the world to perform across 20Hz-20kHz was sE's own Rupert Neve collaboration, the RNR1. This was achieved using state-of-the-art custom transformers and a Rupert Neve-designed circuit to reveal HF usually absent.

With the Voodoo mics, full frequency response is achieved using a clever mechanical device designed by Siwei Zou, the sE CEO, and a hand-tensioned ribbon constructed by highly specialized technicians in sE's capsule room.

The result is a superbly detailed, open and natural recording of acoustic instruments and guitar cabs. The Voodoo's ability to perform - coupled with its unique look - have already made it a secret weapon for thousands of players worldwide.

Features
Electronics: Active
Generating Element: Hand-tensioned 2.5µm aluminum ribbon
Directional Pattern: Figure-8
Frequency range: 20 Hz - 18 kHz
Impedance: 200 Ohms
Sensitivity: 10 mV/Pa (-40 dB)
Max SPL: 135 dB (0.5% THD @ 1kHz)
Signal to Noise Ratio: 76 dB
Self Noise: 18 dB(A)
Matching Connectors: XLR3F
Power requirement: 48V Phantom
Weight: 400g / 14.11oz