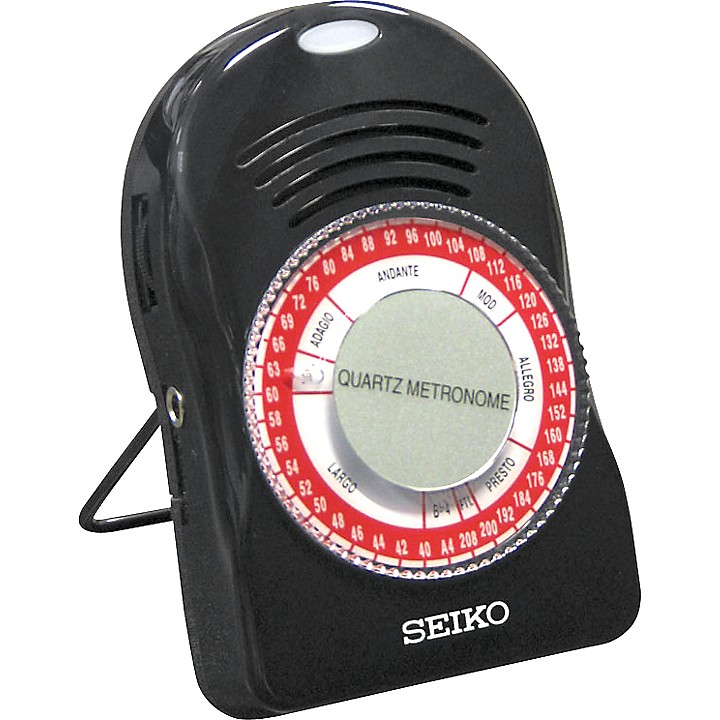 A feature-rich metronome for unrivaled beat keeping.
The SQ50-V Quartz Metronome from Seiko is a premium metronome designed for musicians seeking nuanced control and a range of useful features for practice and performance. With its intuitive 39-position tempo dial, you can set the perfect tempo from 40 to 208 BPM for your needs. Select from high or low pitch clicks as well as A (440 Hz) and Bb (446.1 Hz) tuning reference tones. For visual beat keeping, activate the LED metronome light to flash in time, alone or in combination with the audible click. All of these options are housed in a durable yet compact casing, complete with a padded carrying case for protection on the go.


Granular Tempo Control for Precise Beat Keeping
The 39-position tempo dial provides highly specific control over the metronome's tempo from a languid 40 BPM up to a brisk 208 BPM. With so many increments, you can hone in on the perfect tempo for efficient practice and tight performances. The durable dial feels smooth and dependable, allowing quick tempo changes as needed.


Selectable Clicks and Tuning Tones
Choose between high or low pitch click tones for the audible beat as well as reference tones for standard A (440 Hz) and Bb (446.1 Hz) tuning. The selectable clicks provide options for different pitch preferences and environments while the tuning tones aid in instrument tuning for practice and performance.


Visual Metronome for Enhanced Beat Keeping
For a visual indication of the beat, activate the LED metronome light. The bright light flashes in time with the set tempo, providing a visual cue that can be used alone or in combination with the audible click. The visual metronome is ideal for situations where an audible beat is not optimal or as an additional tool for tight beat keeping.


Compact, Durable and Portable
Despite its range of premium features, the SQ50-V has a compact, durable casing that is ideal for transport. The included padded gig bag provides protection for the metronome when on the go between practice, lessons and performances. With its small footprint and padded case, the SQ50-V packs high performance into a portable package.

Order the SQ50-V Quartz Metronome today.