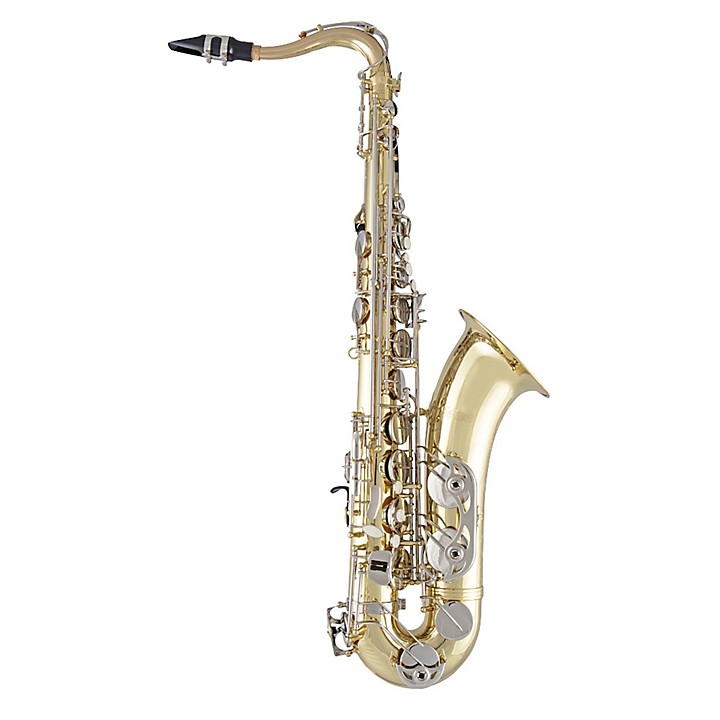 Rich, warm tenor saxophone designed for student players.
The STS301 Tenor Saxophone from Selmer, a leader in woodwind innovation for over a century. At the top of Selmer's student saxophone range, the STS301 Tenor Saxophone is a premium instrument with upgraded components to support the advancing student. Its rose brass neck and ribbed body produce a rich, warm tone with powerful projection suitable for any musical style. The STS301 Tenor Saxophone incorporates design elements from Selmer's professional models to provide a reliable, well-made, and easy-to-play instrument that fosters proper technique and musical growth.


Rose Brass Neck and Hand-Engraved Bell

The STS301 Tenor Saxophone features a rose brass neck and ribbed body construction that generate a full, resonant sound. Rose brass, an alloy of copper and zinc, produces a warmer tone than standard brass. When combined with the precisely curved neck pipe, the rose brass neck helps the STS301 Tenor Saxophone achieve a rich, complex voice. The hand-engraved detailing, an upgrade from basic student models, gives the STS301 a touch of professional polish and flair. These premium components set the STS301 Tenor Saxophone apart from standard student models.


Ribbed Body Construction

The STS301 Tenor Saxophone has a ribbed body construction typically found on professional saxophones. Ribs reinforce the body to improve durability and prevent warping. They also enhance resonance for a full, vibrant tone. The ribbed body gives the STS301 Tenor Saxophone a sound quality and responsiveness that inspires students to practice and pursue their musical goals.


Ideal For Advancing Students

As students progress in their musical studies, their skills and preferences evolve. The STS301 Tenor Saxophone is the perfect next step for advancing students ready to graduate from a beginner instrument. Its premium components and handcrafted quality nurture students' growth by producing a tone with depth and nuance to explore. The familiar key placement and lightweight, balanced design also make it easy for students to play as their technique develops. The STS301 Tenor Saxophone will see students through many years of rewarding practice and performance.


Specifications
Post to rib to body construction
Rose brass neck
Auxiliary keys: front F, high F# key
Hand engraved
Blue steel springs
Lacquer and nickel-plated keys
Adjustable thumb rest
Angled left hand spatula keys
Double arm bracing on bell keys
Pisoni leather pads
Metal resonators
ABS stackable case
Selmer premium mouthpiece
Features
Rich, warm, projecting tone
Sturdy Construction
Advanced ergonomics for ease of reach and playability
Beautiful finish and engraving
Light and fast key action