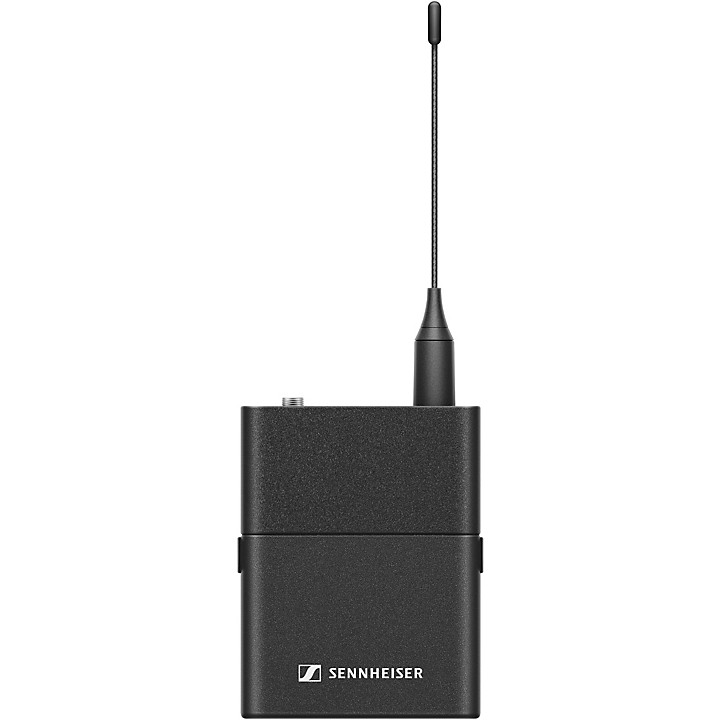 Digital bodypack transmitter with 1/8" audio input.
Versatile and feature-rich digital wireless system for those who sing, speak or play instruments that allows for seamless product pairing and management via the EW-D Smart Assist App. This bodypack transmitter is compatible with a wide range of Sennheiser headset microphones and clip-on/lavalier microphones.
Specifications
Input voltage Input current Power supply
2 AA batteries 1.5 V (alkaline manganese) or BA 70 rechargeable battery pack
Occupied bandwidthTransmit power (radiated)
Audio link: 10 mW
ERP (Range Y1-3: 12 mW ERP)
BLE: max. 10 mW EIRP "
Dimensions (ø x l)
63 x 80 x 20 mm
(without antenna) "
Weight (without batteries)
Features
Digital wireless eliminates noise, interference and static bursts
UHF transmission greatly enhances range, reliability and scalability
Mobile App streamlines setup and operation and eliminates complicated menu
Automated setup creates reliable connections with minimal time and effort
Up to 2,240 selectable frequencies
56 MHz Bandwidth will allow for up to 90 channels
Preserves every detail of even the most dynamic performances with 134 dB transmitter dynamic range
Compatible with a wide range of Sennheiser headset microphones and clip-on/lavalier microphones
Lithium Ion battery pack delivers up to 12 hours of operation (up to 8 hours of operation with AA batteries)
All metal housing
EW-D SK bodypack transmitter
Pouch
Quick guide
Safety guide
Manufacturer declaration sheet