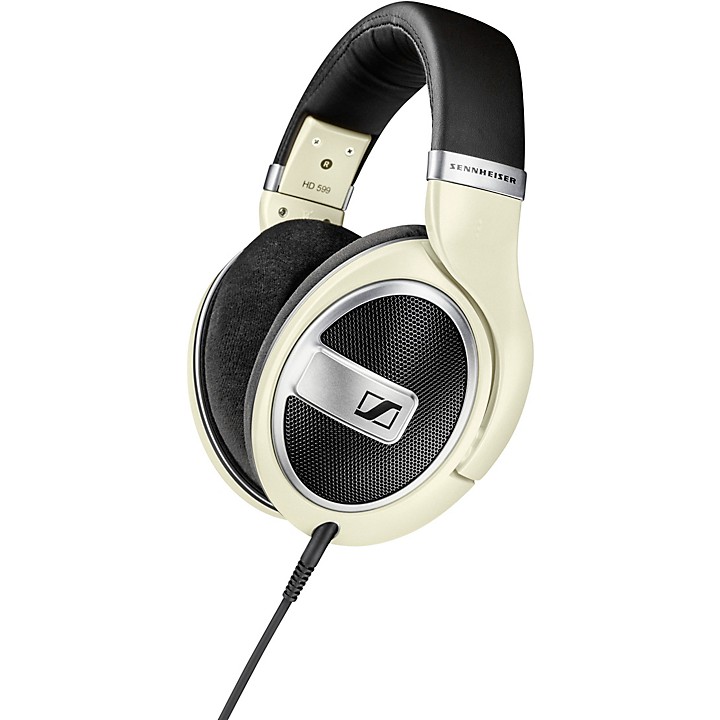 Around-ear design audiophile headphones with remastered sound.
The open back HD 599 delivers impressively natural spatial performance. Topping Sennheiser's 500 series, the full sized premium headphone offers near-audiophile levels of sound quality and exceptional wearing comfort thanks to the large ear cups and soft replaceable ear pads. As successor to our popular HD 500 series, the Sennheiser HD 5 model range offers high quality and value in any aspect. Powered by Sennheiser's proprietary transducer technology including the "Ergonomic acoustic refinement" (E.A.R.) design, which channels the audio signal directly into your ears. Featuring a contemporary design that is both attractive and ergonomic. A real treat for all, who listen to their music with a sense of discovery.

Enter the room of listening pleasure
With the HD 599 you step into the world of audiophile sound. There you will experience outstanding natural spatial performance, brought to you by high-end proprietary Sennheiser transducers. You may have listened to headphones that are quite good. The HD 599 will show you what lies beyond that. Be warned: there is no turning back.

Also, comfort is superior
The HD 599 features an open-back over-ear design. Thanks to the large ear cups with soft replaceable ear pads there is no pressure on your ears, only sound. So nothing will stop you from listening to track after track, discovering what the HD 599 will show you that you haven't even heard yet.

Audiophile sound clad in beauty
Quality you can hear, see and feel – that's what the HD 599 is about. Its design is premium. From the brown stitches on the headband to the matte metallic detailing on the ear cups and headband. Combined with its timeless ivory color scheme, these subtle touches contribute to the HD 599's immediate impression of substance and quality.
Features
Color ivory
Impedance 50 Ω
Frequency response 12- 38,500 Hz
Sound pressure level (SPL) 106dBSPL (1kHz/1Vrms)
THD, total harmonic distortion <0.1% (1kHz, 100dBSPL)
Weight 250 g