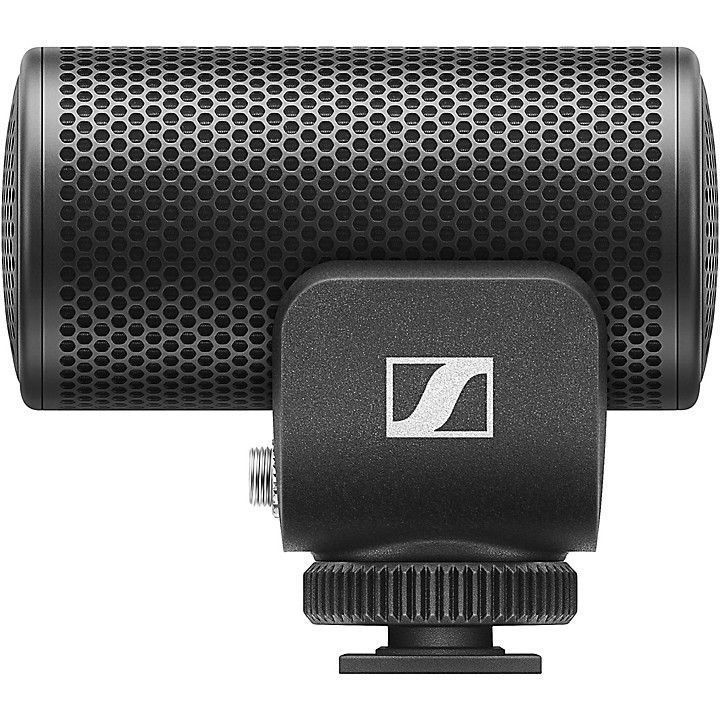 Enhance your audio quality with this step-up mic.
Quality video recording is easy to find, but that isn't always the case when it comes to quality audio. Even the phone in your pocket can shoot video in crisp 4K resolution, so why shouldn't it sound as good as it looks? That's where Sennheiser's MKE 200 directional microphone comes in.

Capturing audio in noisy environments is no longer an issue. A directional microphone capsule brings presence to your voice, while features like a built-in windscreen and shockmount keep your recordings sounding clean. Compact and sleek enough for your camera or your phone, this mic enhances the audio for any video you shoot.

Directional Audio
The MKE 200 features a super-cardioid capsule that provides focus and detail, while rejecting unwanted background noise. Ideal for vloggers and videographers alike, this directional microphone enhances your in-camera audio and brings clarity to your recordings.

Built-in Windscreen and Shockmount
All handheld cameras are susceptible to handling noise, so the MKE 200 features integrated wind protection and shock absorption. These two features ensure the cleanest audio recordings possible while shooting video on the move. Add the included furry windshield accessory for maximum wind protection.

Compatibility
Your video recording is likely not confined to one device, and your microphone doesn't have to be either. Each MKE 200 includes 3.5 mm (1/8") TRS and TRRS cables to be used with DSLR and mirrorless cameras or mobile devices.

Why Upgrade?
Maybe you're a content creator or a vlogger and you've got video figured out, but audio isn't something you considered when you bought your camera. Understandably so, since audio can be easy to overlook.

It's easier to watch content with poor video quality than it is to watch content with poor audio quality. That's because audio delivers the message and tells the story. If your video has poor audio quality, your audience is more likely to swipe away because they can't clearly hear what you're saying. What's more, the majority of social media content is viewed on a mobile device that renders anything higher than 720p nearly indistinguishable. Even lower resolution content on a small screen looks fairly decent. Unfortunately, viewing on a small screen doesn't help your audio the same way it does your video. That's why it's important to make sure your voice is present and defined.

Most cameras sold today come with microphones and speakers that leave much to be desired because the manufacturer expects you'll upgrade your audio. Part of the reason is to keep cost down, but it's mostly because the focus is on picture quality, not audio. The MKE 200 helps make up for that.

You don't need to be an audio engineer to improve the quality of your audio. All you need is the MKE 200 directional microphone to enhance your sound. Set your content apart from the rest.
Features
Directional microphone for isolated and enhanced in-camera audio
Compact design with sleek and stylish finish
Integrated wind protection and internal suspension mount to minimize handling noise
Interchangeable 3.5 mm (1/8") TRS and TRRS connectivity for use with DSLR and mirrorless cameras or mobile devices
Standard cold shoe mount for universal use
Battery-free operation