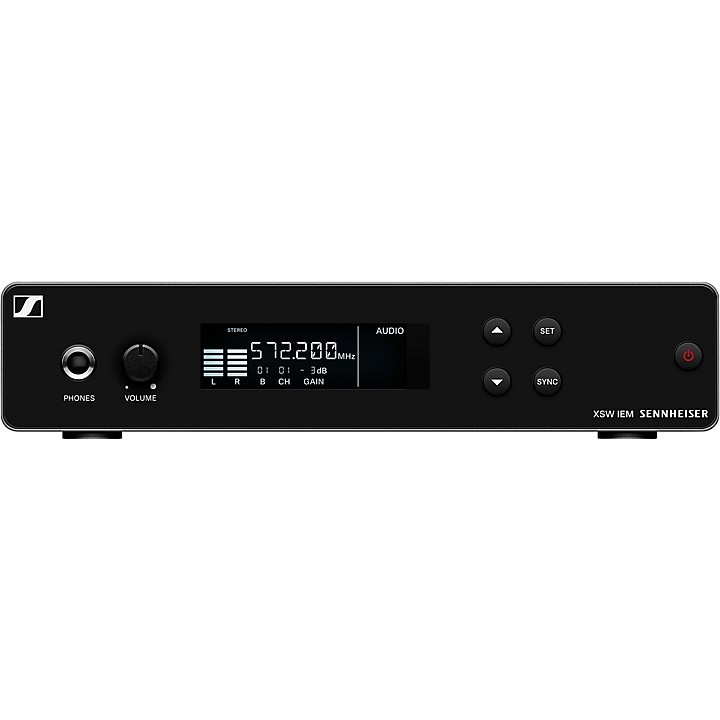 A UHF transmitter that is durable and allows for easy setups anywhere, including dark stages.
The SCW IEM stereo transmitter from Sennheiser is a single, half-rack stereo UHF transmitter with rugged metal housing. As a part of the XS Wireless IEM series, compatible with both Band A and Band B, the XS Wireless IEM transmitter is designed for durability and can be used as part of a rack-mounted system or stand-alone. The clear, backlit menu allows for easy setups even on dark stages. The XLR combo inputs provide flexible cabling options, allowing you to connect anything with an XLR or 0.25-inch plug. You can also preview your in-ear mix locally with the headphone output on the front. Setting up gain, mono or stereo options, input sensitivity or frequency channels takes just a matter of seconds thanks to the clear, simple menu.
Specifications
Includes: XSW IEM SR Stereo Transmitter, XSW BNC Antenna, NT 12-5CW Power Supply and Country Adapter, Quick Guide, Safety Guide, Compliance Sheet and Frequency Table
Modulation: FM stereo
A Frequency ranges: 476-500MHz (30mW)
B Frequency ranges: 572-596MHz (30mW)
C Frequency ranges: 662-686MHz (30mW)
E Frequency ranges: 823.2-831.8MHz (30mW)
K Frequency ranges: 925.2-937.3MHz (10mW)
Switching bandwidth: Up to 24MHz
Nominal/peak deviation: ±15kHz / ±24kHz
Antenna outputBNC socket: 50 Ohm
AF frequency response: 45Hz-15kHz
AF input: BAL AF IN L (I) + MONO/ BAL AF IN R (II) - 2x XLR-3" and 1/4" jack combo socket, electronically balanced
Total harmonic distortion (THD): <0.9%
Signal-to-noise ratio (at nominal load and peak deviation): ≥88dB
Temperature range: 0 °C to +40 °C
Input rating: +12 V DC
Current consumption: Approx. 400mA (depending on volume level)
Dimensions: Approx. 7.87" x 5.03" x 1.65"
Weight: Approx. 1.54 lb.
Features
Single-stereo UHF transmitter for XS Wireless IEM systems
Rugged metal housing in a standard half-rack size
Backlit front panel to access all key settings
Two XLR and 1/4-inch TRS combo inputs
Additional headphone output 1/4-inch on front
Removable BNC antenna for optimal positioning options
8 frequency banks with 12 pre-calculated channels each