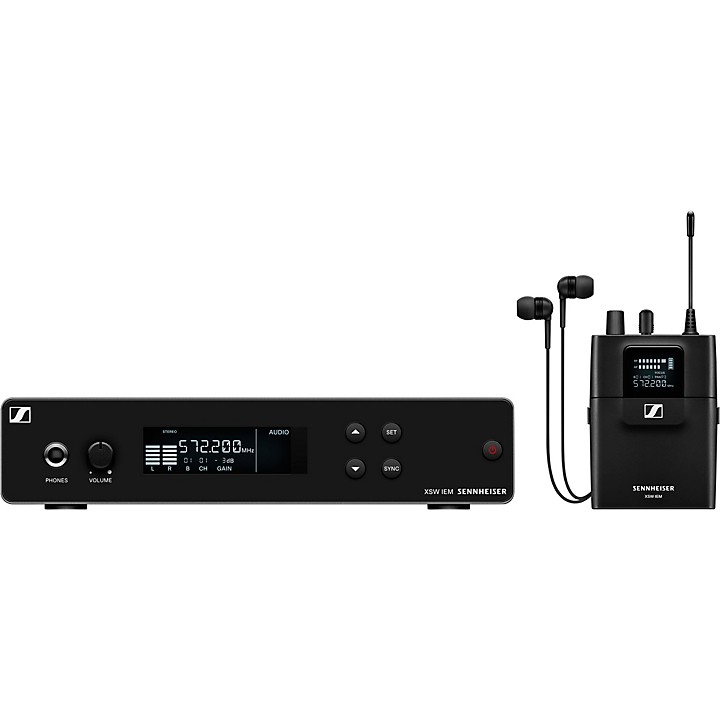 Level-up your setup with sound clarity and a comprehensive design.
Make the move to personal monitoring with the Sennheiser XSW IEM Wireless In-Ear monitoring system. Defining new standards for simple, flexible and reliable wireless in-ear monitoring, this system is designed to help you level up your sound regardless of your experience level. Whether at a rehearsal or live performance, on a club stage or worship service, you will benefit from renowned Sennheiser sound and solid wireless reliability packaged into a convenient, entry-level system.

Designed for the rigors of the small stage, the XSW IEM wireless system features a comprehensive design you can count on. The series works in the professional-grade UHF range and uses pre-defined frequency banks. The all-in-one set includes everything to get you hearing yourself like never before, including a rack-mountable transmitter with a clearly arranged display and long-lasting metal housing. Additional features include a bodypack receiver that is lightweight with a high contrast display, integrated equalization, limiter and focus mode, and a rackmount kit to ensure that the system delivers the value you need today with the longevity you expect tomorrow.
Specifications
Variant A frequency range: 476–500mHz
Variant B frequency range: 572–596mHz
Variant C frequency range: 662–686mHz
Variant E frequency range: 823.2–831.8mHz
Variant K: 925.2–937.3mHz
Variant A, B, C and E output power: 30mW
Variant K output power: 10mW
Modulation: FM stereo
Switching bandwidth: Up to 24mHz
Nominal/peak deviation: ±15kHz/±24kHz
Antenna output BNC socket: 50 ohm
AF frequency response: 45Hz to 15kHz
AF input: BAL AF IN L (I) + MONO/ BAL AF IN R (II) - 2x XLR 3" and 1/4" jack combo socket, electronically balanced
Total harmonic distortion (THD): <0.9 %
Signal-to-noise ratio (at nominal load and peak deviation): ≥88dB
RF Modulation: Wideband FM
AF Signal-to-noise ratio (1 mV, peak deviation): - ≥88dB
Total harmonic distortion (THD): ≤ 1%
High Boost (EQ): +10dB at 13kHz
Limiter: -10dB
AF frequency response: 45Hz to 15kHz
Cross talk (50Hz–10kHz): Typically 45dB
Temperature range: 0 °C to +40 °C
Power supply: 2 AA batteries, 1.5V
Nominal voltage: 3V battery
Operating time: Approx. 6 hr. (depending on volume level)
Dimensions: Approx. 3.54" x 2.75" x 1.02"
Weight (including batteries): Approx. 0.24 lb.
IE 4 in-ear headphones transducer: Dynamic
Frequency response: 40–20.000Hz
SPL (1 kHz, 1 mW): 106dB
Nominal impedance: 6 ohm
Cable length: 55.11"
Connector: 1/8" stereo plug, gold-plated
Temperature: –5 °C (23 °F) to +50 °C (122 °F)
Includes:
XSW IEM EK Stereo Receiver
XSW IEM SR Stereo Transmitter
XSW BNC Antenna
IE 4 In-ear headphones
2 AA batteries
XSW Rack Mount Kit
NT 12-5CW Power Supply and Country Adapter
Quick Guide
Safety Guide
Compliance Sheet
Frequency Table
Features
Complete starter set for in-ear monitoring
Reliable, easy-to-manage wireless connection in the professional UHF range
Full control with flexible audio modes
Focus mode to balance your personal mix
Advanced features like EQ and limiter
Easy frequency presets or detailed manual control
Infrared sensor to sync multiple receivers easily to one transmitter