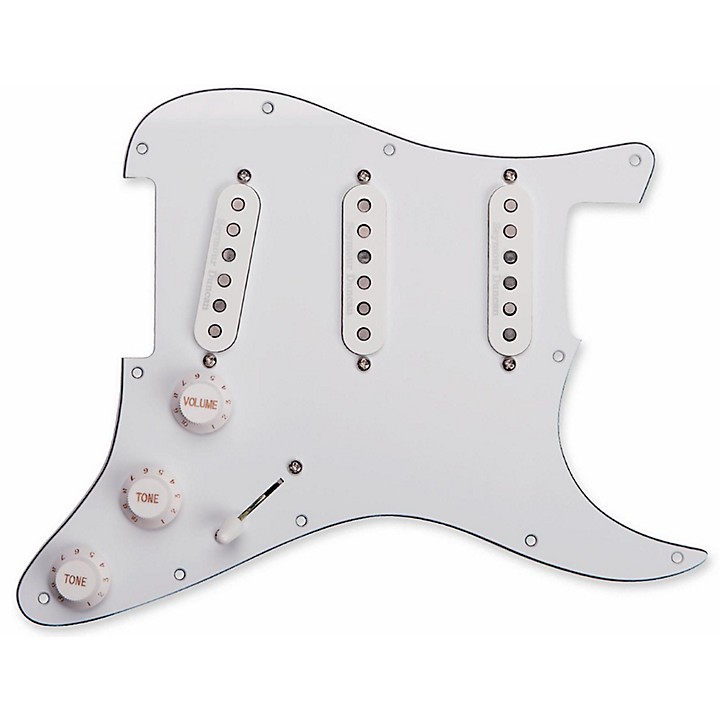 A full pickup installation made easy.
Loaded with a versatile combination of our Stack Plus pickups. Comes with a push/pull for splitting the pickups into true single coils.

With three of their patented Stack Plus pickups, this prewired pickguard delivers big, beefy tones without sacrificing the chime and sparkle of a great vintage Strat. The Custom Stack Plus in the bridge position gives you a full, fat sounding bridge tone.

The Vintage-Hot Stack Plus gives you a little thicker neck tone. And the Classic Stack Plus in the middle gives you a variety of vintage flavorings in positions 2, 3, & 4. Overall, you get a truly versatile, noiseless setup that can be dropped into your Strat.

Any future pickup changes you decide to make will be a snap because this pickguard comes equipped with a Liberator solderless system that makes swapping pickups fast and easy. There is also coil-splitting option that lets you choose between hum-cancelling Stack mode and traditional single-coil operation.

Hand-built in Santa Barbara, CA, this fully loaded pickguard comes with our Liberator solderless pickup system, and uses an 11 screw USA pickguard pattern. These pickups all use alnico 5 rod magnets, 3-conductor splittable leadwire, and are vacuum wax potted for squeal free operation.