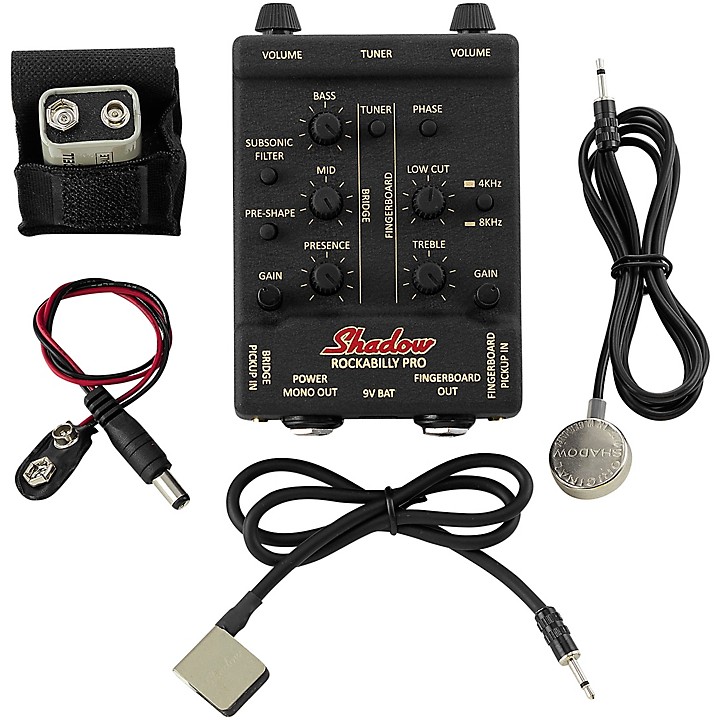 Designed for maximum user control.
The Shadow SH RB-PRO is a dual pickup system with a custom preamp for upright bass. While definitely designed with the Rockabilly player in mind, it can be used for any musical style. This versatile system includes two pickups, one for slap (mounted underneath the fingerboard) and one for the bridge.

The active preamp features independent tone control and volume for each pickup, allowing you to dial in your ideal sound. With the bridge pickup, you get a full-bodied sound, great for any style of music. The independent preamp features bass, mid, presence, subsonic filter, and a pre-shape switch that allows for maximum tonal flexibility.

A separate pickup mounted to the back of the fingerboard provides a snappy sound that can be blended with the bridge pickup for a balanced, percussive sound. The fingerboard pickup runs through a separate preamp with independent phase, low cut, treble, and treble shift switches, which means you can carve your tone exactly the way you want it.

The preamp has two output options: Use the mixed output of both pickups, or plug in a second cable and have independent output of each pickup, this allows you to run them separately to the amp of your choice, or to the mixing board.

An onboard chromatic tuner is also built into the preamp for convenience and an external battery pack makes battery changes quick and easy.