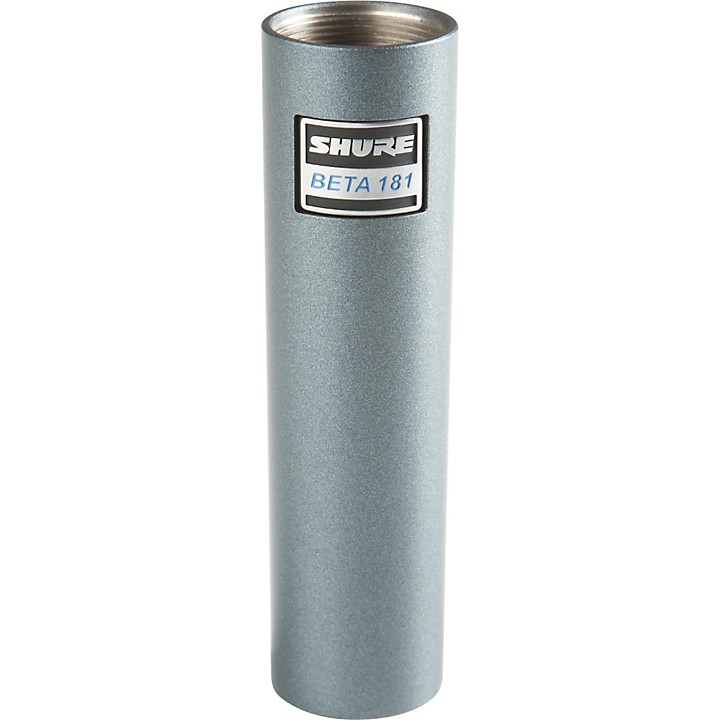 The base unit for the Shure 181 microphone.
The Shure Beta RPM181/Pre preamp is the base unit for the Shure 181 microphone. This compact preamp attaches to the four interchangeable capsules that are available for the Shure 181 microphone.

The Shure Beta 181 a multipurpose instrument microphone and can be used on a wide variety of applications including guitars, bass and drums (overheads and snares). It has a small diaphragm design that provides superior audio with textbook polar responses in a form factor compact enough to get close to the source in the tightest conditions. The Beta 181 has a precision-engineered, side-address design that features an innovative locking ring to provide secure connection between the capsule and RPM181/Pre preamplifier with integrated XLR connections.

There are four different capsules available for the Beta 181 microphone: Cardioid (RPM181/C), Supercardioid (RPM181/S), Bi-directional (RPM181/BI), Omni-directional (RPM181/S). This makes the Beta 181 an extremely versatile and cost-effective mic that allows the user to interchange capsules according to the application. (Capsules sold separately).

This microphone requires phantom power and performs best with a 48 Vdc supply (IEC-61938). However, it will operate with slightly decreased headroom and sensitivity with supplies as low as 11 Vdc.

Specifications
Net Weight 145 g (5.1 oz.)
Dimensions (Length x Diameter): 4.40 in. x .80 in., (124.46 x 20.32mm)
Features
The base unit for the Shure 181 microphone
Attaches to the four interchangeable capsules (sold separately)
An innovative locking ring to provides secure connection to capsules with integrated XLR connections
Exceptional low-frequency reproduction
Extremely high SPL handling
High output level
No crossover distortion
Transformer output