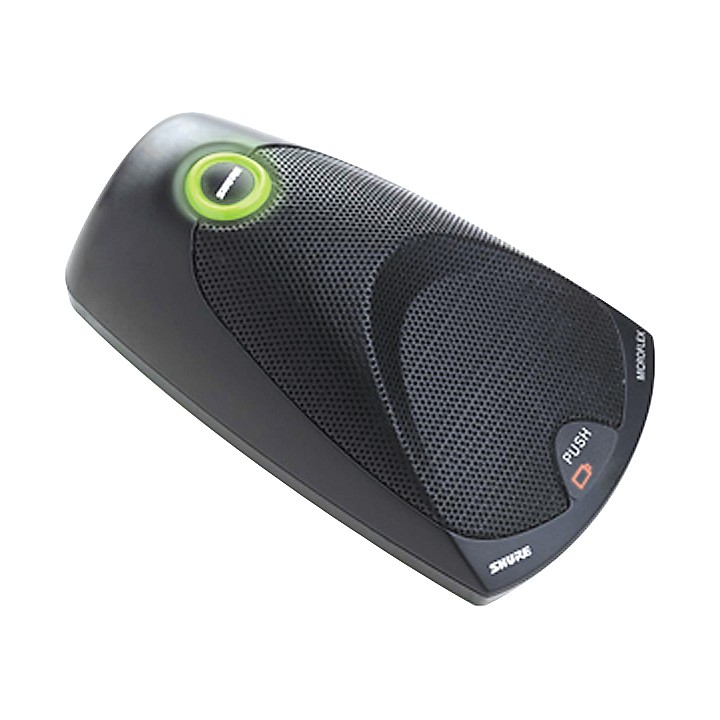 The Shure MX690 Microflex Wireless Boundary Microphone offers total freedom of placement with no holes to drill or cables to run for installation. The MX690 plate mic is a both a microphone and a wireless transmitter and is the perfect solution for conference and meeting spaces where users demand flexibility and high performance. Compatible with Shure SLX wireless systems, including the SLX4L receiver with logic output for applications requiring logic functionality.
Specifications
Transmitter Specifications
Operating Range: 100 ft (30 m) (Note: Actual range depends on RF signal absorption, reflection, and interference)
Frequency Stability: ±10 ppm
Maximum Frequency Deviation: 45 kHz
Oscillator Type: Phase-locked loop (PLL) controlled synthesizer
Power Requirements: 3V (2 AA alkaline or rechargeable batteries)
Battery Life: ‰8 hours (alkaline)
Power Consumption: 130 mA, ±15 mA
Operating Temperature Range: -18"57 degrees C (0"135 degrees F)
(Note: Battery may limit this range)
Dimensions (H x W x D): 1-11/16" x 3-3/8" x 5-13/16" (43 x 87 x 148 mm)
Weight: 11.2 oz (318 g)
Microphone
Type: Condenser (electret bias)
Frequency Response: 50"17000 Hz
Polar Pattern (at 1 kHz): Cardioid
Sensitivity (at 1 kHz , open circuit voltage): "33 dBV/Pa (22 mV) 1 Pascal=94 dB SPL
Dynamic Range (1 kohm load at 1 kHz): 96 dB
Common Mode Rejection (10 Hz to 100 kHz): 45 dB minimum
Preamplifier Output Clipping Level (1% THD): "6 dBV (0.5 V)
Polarity: Positive sound pressure on diaphragm produces positive voltage on pin 2 relative to pin 3 of output XLR connector or tip of 1/4" phone plug.
Features
Sleek, low profile design
Frequency agile, microprocessor controlled transmitter
Bi-color status indicator
IR link to SLX receiver for automatic frequency synchronization
Programmable mute function
Battery level indicator
Operates on two AA batteries
Logic output for remote LED and mute control
CommShield Technology for improved RF filtering