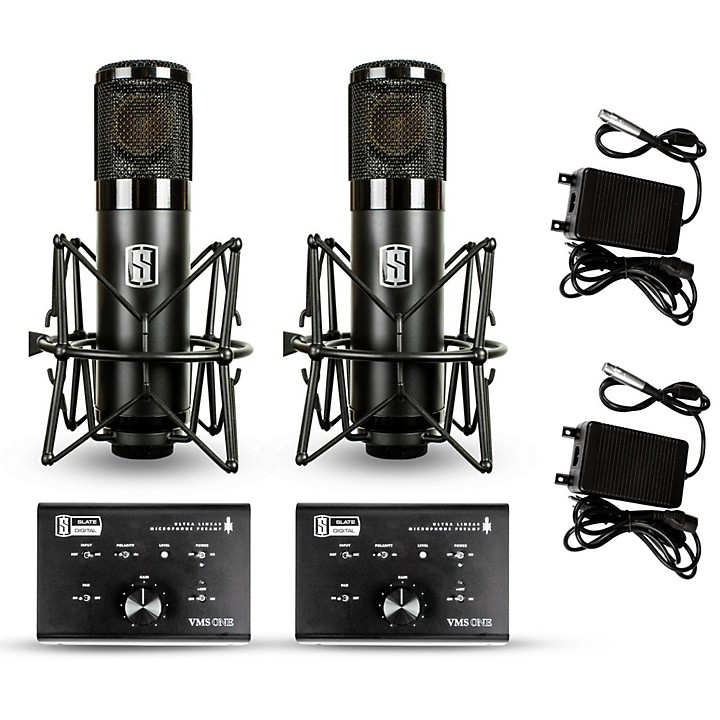 Slate Digital's virtual microphone locker, times 2.
What if you could have a mic locker filled with dozens of the world's greatest microphones and preamps available at your fingertips? What if you could audition virtual mics on any vocalist or any instrument while you sit in your studio chair? Well with the VMS Virtual Microphone System you can.

ML-1
The ML-1 is an extremely high definition, ultra linear, large diaphragm condenser microphone. It has extremely precise transparent reproduction, flat frequency response, and super wide bandwidth, making it the ideal blank canvas on which to impart the colorful vibe of classic tube and condenser microphones. The capsule proximity effect precisely replicates the classic cardioid of vintage large diaphragm mics.

VMS-ONE
To ensure that the ML-1 avoids any color when recorded to the workstation, Slate created the VMS-ONE preamp. Using state-of-the-art amplifiers, this super linear and clean circuit preamp is the final step in ensuring that the purest signal is created, giving the VMS plugin module the opportunity to add the perfect reproduction of classic microphones and preamps.

FG-47
This mic will take you back in time. It's lush, warm, fat, present, and BIG sounding. If you have a wimpy source, it gets fixed with this mic. It doesn't have that modern sizzly top-end air, but it takes EQ in the top end like a champion. I love adding some Custom Series 10kHz when using this mic. By pushing the intensity, it gets even darker, moodier, and a bit more saturated. Don't just use this microphone on vocals. Put it on drums as a room mic. Put it on the outside of a kick. Put it on horns, strings.

FG-800
The FG-800 is based on a solid performing studio vocal mic. This is a bright and airy microphone. That airy, clear, bright tone works perfectly in a pop mix with no EQ needed. When this mic works, nothing will sound as good. And it actually works a lot, even on modern male rock vocals.

FG-251
The FG-251 sounds so good on just about everything. It's the perfect balance of top, middle, and bottom. There is something so flattering about this mic that every singer just sounds better than they do in the actual room.

The intensity is really fun with this one. This mic pairs well with both preamps, so try them both using the VMR A-B system.