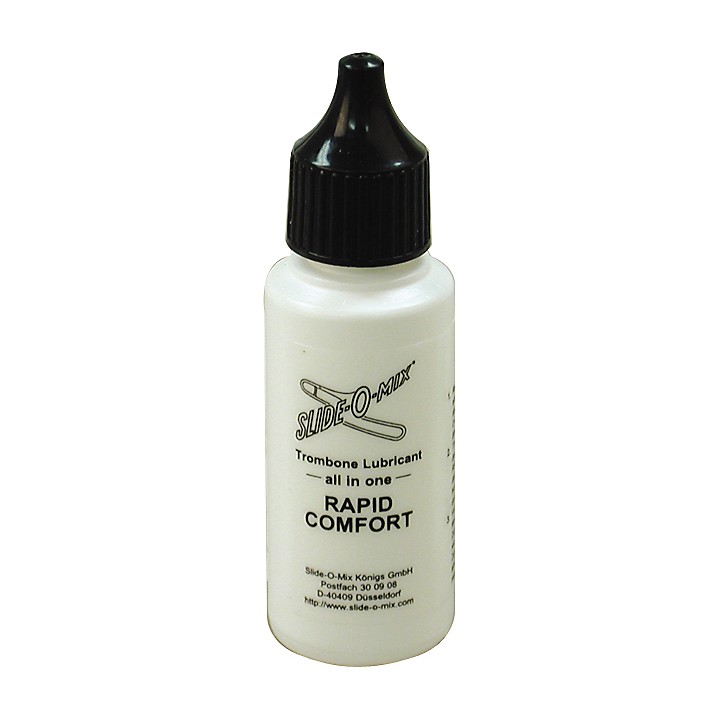 Easily applied lubricant for trombone handslides.
The Rapid Comfort is a precision German-engineered trombone handslide lubricant. This lubricant offers the best of the original two-bottle Slide-O-Mix lubrication system combined into a convenient one-step application. Developed for players of all levels, Rapid Comfort provides excellent lubrication and performance for your trombone.

Rapid Comfort is easily applied to your handslide with the precision tip applicator. For optimal performance, clean the inner slide tubes to ensure that they are free from any residue tor hardened deposits from other lubricants before applying Rapid Comfort.

Best applied at the bottom of the trombone slide around the inner slide tube stockings, move the outer handslide up and down the length of the inner slide tubes to evenly distribute the lubricant. After the lubricant is applied to the inner slide tubes, lightly mist the slide with water from a spray bottle.

Slide-O-Mix Rapid Comfort is recommended to be stored ideally at normal room temperature for optimal performance. Avoid storage in extreme temperatures. This comes in a convenient 30 ml bottle for easy transport in your instrument case.